Gina Liano Shares Her Top 5 Fashion DONT'S!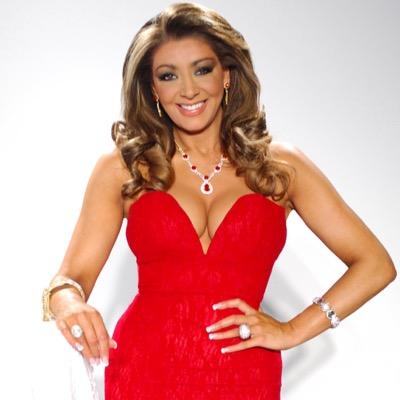 Gina Liano is undoubtedly one of the most memorable women to come out of The Real Housewives of Melbourne. The barrister turned reality TV star is known as much for her sense of fashion as she is for her memorable one liners. In fact there are so many beauties that I could collate them all and make a book! Here are some of my favourites:
I actually say this one in my head about 12 times a day!
The fact that Liano doesn't own a tracksuit does not surprise me one iota. I mean where on earth is she going to find trackies that have a plunging neckline and a million swarovski crystals? Aside from Liberace's closet.
No words needed here…this one is gold!
Apart from killer one liners, Gina Liano is gaining a name for herself in the fashion stakes. She knows what suits her and she has stuck to it- for the past 35 years- whether it's in fashion or not.
The reality TV star recently filmed a segment for BE on yahoo where she outlined some of her top fashion tips for us mere mortals. And to my surprise there is no mention of blue eye shadow, hairspray or bedazzled gowns.
BUBBLE SKIRTS– should not be worn by anyone according to Gina. Which is kind of weird cause I haven't seen them around since Dannii Minogue rocked them on Young Talent Time! 
2. ACID WASH JEANS – apparently are only for punks or mullet wearing peeps. I think Billy Ray Cyrus proves Gina right on this one!
3. SOCKS WITH OPEN TOE SHOES OR SANDALS– this look is a big no no according to Gina. She says if you're going to wear socks then wear closed shoes or if you're not wearing socks then just wear the sandals. I can see hipsters everywhere giving her the silent finger as we speak!
4. BLACK TIGHTS AND WHITE SHOES– again I'm pretty sure Gina is stuck somewhere between the 80's and who the hell knows. Was this ever a thing?
5. TOO SHORT SKIRTS- well this one's a no brainer! Gina says your skirt shouldn't be so short that everyone can see your undies when you bend over. Obvs!
Fashionista Liano goes on to say:  Look, there's all manner of fashion crimes I could go on about. Too-short skirts where everyone can see your backside, opaque tights with white shoes, thongs and socks… the list goes on. Like I said, dress for you, and you'll be fine. And remember: once you get to a certain age, you can wear whatever you bloody well like!!
Do you agree with these fashion don'ts? And would you add any others to the list?
Photos: Google images