Gwyneth Paltrow's Goop Forced To Pay Back $200K For Making Unsubstantiated Claims About Vaginal Jade Eggs!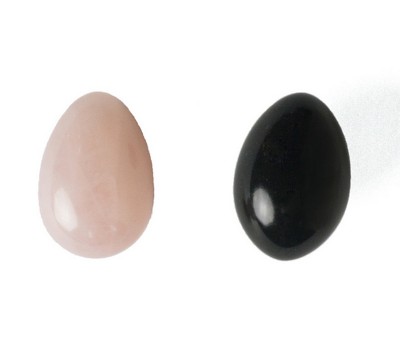 Gwyneth Paltrow's Goop Forced To Pay Back $200K For Making Unsubstantiated Claims About Vaginal Jade Eggs!
Actress Gwyneth Paltrow's blog-turned-online-retailer Goop has agreed to pay out over $200,000 to customers after a settlement over 'unsubstantiated claims' linked to the health benefit of the jade vaginal egg.
Before we continue, let's find out exactly what a jade vaginal egg is! According to Goop it's roughly 2.5 x 5 cm big and made from heavy, dark green nephrite jade. It's inserted into a woman's vagina much like a tampon, and is meant to 'sit' in there all day. In a Goop Q and A  a happy customer said the $66 eggs have the potential to "cultivate sexual energy, increase orgasm . . . intensify feminine energy, and invigorate our life force." The customer also went on to say that when she wears her egg in public, she attracts a lot of attention from the opposite sex. (?)
The Chinese have used the egg from ancient times claiming it can both strengthen pelvic muscles for better sex, and to help its user "increase sexual energy, health, and pleasure."
In fact the Goop website states… "Fans say regular use increases chi, orgasms, vaginal muscle tone, hormonal balance, and feminine energy in general."
If you want a little more background info on the jade egg, GOOP shared a story in 2017 called "Better Sex: Jade Eggs for Your Yoni," which also claimed these eggs harness the "power to cleanse and clear" making them "ideal for detox, too."
Unfortunately for GOOP, the egg has no scientific backing. A lawsuit was launched by 10 California counties pertained to vaginal eggs both Jade and Rose Quartz. While GOOP claimed that the eggs were 'a way for women to balance their hormones, regulate menstrual cycles, prevent uterine prolapse and increase bladder control,' there are no studies to back this.
Now Goop has had to pay out $US145,000 in civil penalties and must offer refunds to some customers who purchased the eggs. According to the lawsuit, GOOP is "barred from making any claims regarding the efficacy of its products without possessing competent and reliable scientific evidence, and from manufacturing or selling any misbranded, unapproved, or falsely-advertised medical devices."
OOPS.
So while GOOP can no longer make claims about their jade eggs they are still free to sell them.
Question is…do we really need to be sticking a Cadbury sized egg up our clacker? The answer would be no. Leading doctors in LA, Dr. Gunter and Dr. Streicher say that leaving a weight inside of your vagina all day long isn't a healthy training method. "You want to contract and relax, not have your muscles contract continually," Dr. Gunter says. "Contracting constantly is like doing half of a bicep curl and not finishing it—that's not how you work on a muscle."
"If you want to strengthen your pelvic floor stick with exercises that have been proven to work, like kegels."
Amen!
Images: Goop