Hilaria Baldwin Posts A Photo Of Her Body Just 24 Hours After Giving Birth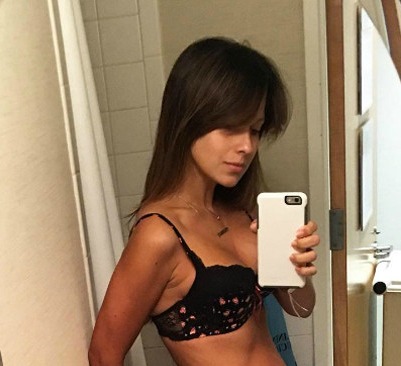 Hilaria Baldwin gave birth to her third child with husband Alec just two days ago has now shared a pic of her body post partum to all her followers on Instagram.
The 32 year old posted the photo 24 hours after giving birth to her son Leonardo Angel Charles.
"I took this yesterday when Leonardo was about 24 hours. I did the same thing right after Rafael was born," she captioned the picture below.
"It always makes me a bit nervous to do something like this, but I feel that in the age of such strong body shaming, I want to do all that I can to normalise a real body and promote healthy self-esteem," she continued.
"Many of you know that I love to show the process of life's experiences on the body and I am a firm believer in how a good diet and the right balance of exercise make us happy, healthy, and strong."
The photo was taken in the hospital bathroom and shows Hilaria in her bra and undies (minus the pads) because the yoga fanatic said there was "a limit to how much you need to see".
There was no photoshop or filter used and just showed a woman's body in it's most honest and raw form just 24 hours after performing the most amazing feat – giving birth!
Hilaria said she would continue to share daily posts documenting her efforts to "getting back into shape" under the hashtag #366daysoflivingclearly.
Many of her followers loved seeing her image and were quick to praise her honesty.
"SO beautiful! I love how you share what's real in a world where everything about women is criticised; 'too fat', 'too skinny', etc. Thank you for sharing!!" wrote one.
"When I saw this headline on I thought it was going to be of you slim and no belly. Thanks for being real!!"
However not everyone praised the mum of three for her attempt at 'normalising' what a woman's body looks like after giving birth.
"Normalising what? I know that after each one of my four babies I certainly did not look like that after 24 hours. It's so unrealistic," wrote one follower.
"And it would be a freakin miracle if my bra and underwear matched on a good day, never mind 24 hours postpartum. Perhaps instead of focusing on getting back into shape, she should focus on her newborn son and being a mum."
Comments aside- this is a beautiful photo of a beautiful woman who is sharing a very honest and raw photo of herself. It just further highlights the fact that every woman is different and there is no 'normal.' So lets just celebrate this for what it is – a woman who feels great and wants to share it with the the world.
Photos: Instagram