Irish Mum Recreates Beyoncé's Twin Reveal Photo with Glorious Backyard Photoshoot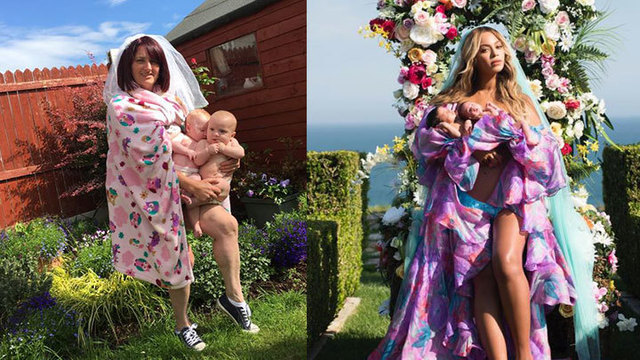 Irish Mum Recreates Beyoncé's Twin Reveal Photo with Glorious Backyard Photoshoot
An Irish mum has staged a fantastic photoshoot that has blown Beyoncé's twin reveal photo completely out of the water. It is that good.
Beyoncé revealed the first photo of one-month-old twins, Rumi and Sir, on her Instagram — a dramatic image of her holding the babies while wearing a veil and wrapped in a blanket and standing in front of a statue of flowers.
Mother of four Sharon Kellaway, who lives in Cork, Ireland, took a series of photos in her garden, wearing a veil, wrapped in a blanket, and holding her twins, Zoe and Senan. She then placed her photo side-by-side with Beyoncé saying the 'likeness is uncanny.'
While Beyoncé's photo was extravagant and in-keeping with her pregnancy photoshoot theme, Sharon Kellaway's was way better. More realistic to modern mummy-life, at the very least.
Here is Beyoncé's twin reveal:
And here is Sharon's. I think you'll agree that it is infinitely better.
NAILED IT!
"I wonder how many photos Beyoncé had to get through to get the right one. My 6-year-old took the photos … no qualifications and still did a mighty job!" wrote Sharon.
Indeed she did!
Absolutely tremendous. Seriously, well done Sharon! Slaying it.
Sharon's parody of Beyoncé's photoshoot really highlights the differences between the lifestyle of a wealthy and famous superstar and that of normal everyday mums (who are also superstars, FYI, just in different ways).
Kellaway, 40, told the Irish news website Independent.ie that she wanted to poke fun at the pop star's picture because "she looked so unrealistic."
She said she never expected her post to go viral and resonate around the world.
"It was just random. I have the twins, the blanket and the veil, a few home-grown flowers in the garden," she told Mirror Online. "I had what she had, so why not?"
Exactly. Awesome stuff, Sharon!
Source: Instagram/Beyoncé and Facebook/Sharon Kellaway