James Corden's Latest Carpool Karaoke Features Selena Gomez and a Rollercoaster!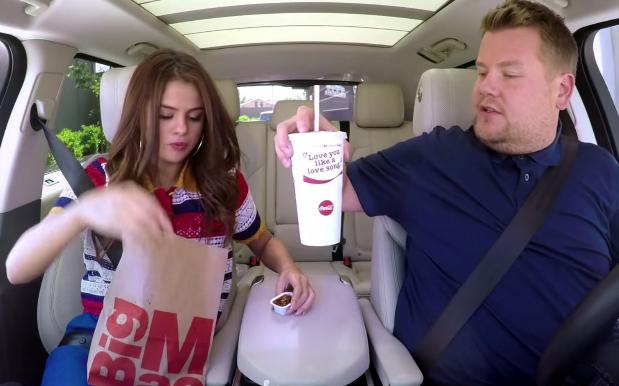 Is there anyone that doesn't love a carpool karaoke? The Late, Late Show host James Corden is killing it with his celebrity passengers lately.
This time his singing guest is none other than tiny Selena Gomez. I say tiny cause she looks like a 2 year old sitting all curled up on the seat next to James. So cute!
Together they sing a slew of Selena's tracks, as well as a little rendition of Tay Tay's hit song 'Shake It Off.' The highlight is definitely seeing the duo try to keep singing while they're enduring the thrills of a rollercoaster. One guess as to who manages to not miss a single word!
In between there's a Macca's run that sees James demand they get the special cup with Selena's lyrics printed on the side. Clearly it's all a plug for the fast food chain- but besides that you have to see how fast Selena hoes into those fries and BBQ sauce! Impressive skills right there, girl!
Watch all the fun below: