Jessica Rowe Shares Photos Of Her 'Crap' Dinners Online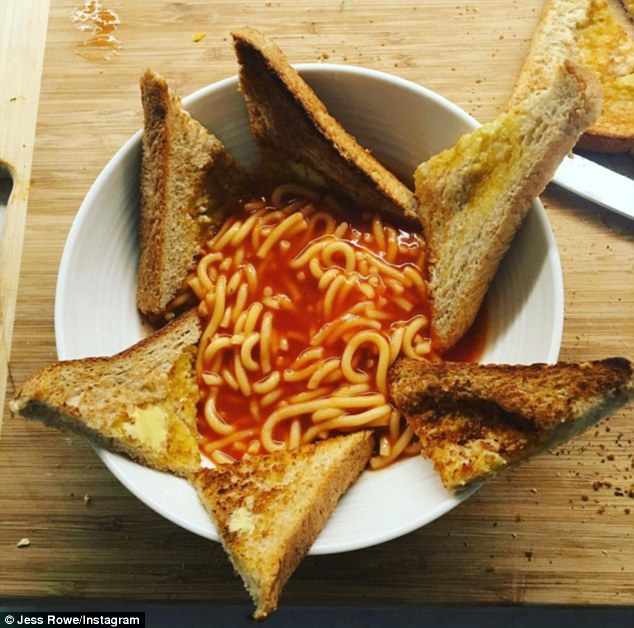 We've all been guilty of dishing up a crappy dinner every now and then- whether it's cereal for breakfast on simple eggs on toast- it's just a part of life, especially when you're a busy mum trying to feed your family!
These quick but comforting meals though don't usually find their way onto Instagram or any other form of social media. I mean who wants the world to know we just fed our kids cold sausages for dinner?
Jessica Rowe does, that's who! The Australian journalist and TV personality regularly and proudly shares honest captions of her so-called 'crap housewife' dinner fails onto Instagram. She's not embarrassed, nor should she be!
Her most recent masterpiece was a picture of canned spaghetti with the caption-
'And today is Sunday! Sunday is canned spag on toast!! #yummo #craphousewife'.
Lots of people related to her honest approach and commented with captions like: 'You are the funniest', and 'Master Chef'.
Today is Wednesday… Wednesday is baked beans!! #cr*phousewife', she writes on one photo.
'Today is Friday… Friday is pizza!! #hooray! #cr*phousewife,'  another picture of takeaway pizza and white wine.
The mum of two girls, Allegra, 8 and Giselle, 6 is married to journalist Peter Overton and like any working mum she deals with the daily struggle of providing meals 'everyone' will love.
Her followers on Instagram love her honest reflections and very real portrayal of what it's really like to be a working mum with kids. Her posts are the total antithesis of the #foodporn movement which only highlights amazingly presented meals that are supposed to serve as inspiration to wanna-be cooks.
But the reality is that some days all you can really muster is boiling some water, throwing in some pasta and opening a jar of pasta sauce. And that's totally ok!
Photos courtesy of Instagram.