Jessica Rowe Is Shocked To See Babies Left Outside In Prams During Freezing Weather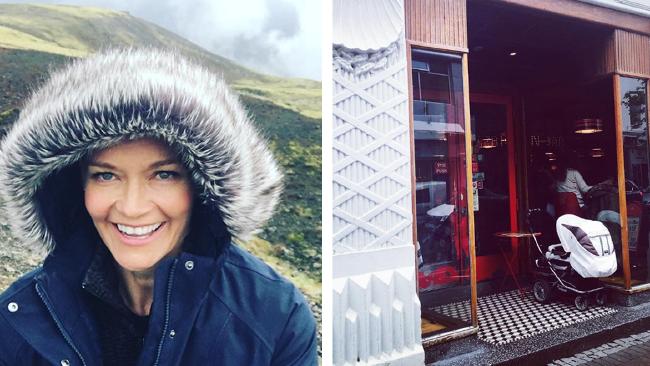 TV host Jessica Rowe is currently on holidays in Iceland where she witnessed something that is perfectly acceptable over there but clearly not so much with the self proclaimed helicopter parent.
While enjoying the stunning scenery with her mum,  Jessica noticed the unusual parenting approach whereby parents leave their sleeping babies in their prams outside cafes. So surprised was Jessica that she posted a photo of the pram on her Instagram account.
She captioned the photo with – "For a helicopter parent like me — this makes me break out into a sweat!
"But all over Reykjavik families leave their babies outside cafes, shops etc… I'm told 'fresh air is good for them.'"
This may seem strange for us, especially in a country like Iceland where the temperature often drops below 5 degrees celsius. However Nordic parents have been doing this for years with their babies and say the fresh air does the babies good. In fact they say it improves their health and boosts their immune systems, which means they get sick less often.
And contrary to popular belief, research has also supported this theory, with -5 degrees proving to be the optimum temperature for a sleep.
Some of the comments left on Jessica's photo showed that many agreed with the host saying there was no way they would leave their babies alone outside a cafe.  "Scary anyone could just take off with Bub and pram." Another parent wrote: "Ahh no way. The nightmare of my early years as a new mum."
While others were more familiar with the practice and agreed wholeheartedly. "If it works why not! Good for them… Babies sleep better in the fresh air." Another mum said: "Yep. I gave birth to my first boy in Copenhagen and did this daily. Seems crazy, but it is the norm."
What do you think? Would you leave your sleeping child outside in the cold?