Jon Gosselin Says: 'I Haven't Seen All 8 of My Kids Together in 3 Years.'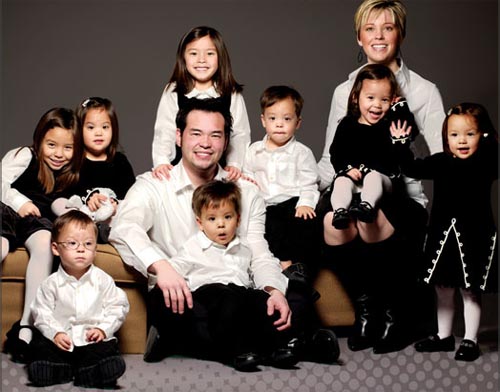 Jon Gosselin is best known as the dad of eight who appeared with his then wife Kate Gosselin on the reality show Jon & Kate Plus 8 which chronicled their journey of having a set of twins plus sextuplets.
In recent years however,  Jon says his relationship with his children has suffered greatly- especially since the divorce from their mother Kate in 2009. The former reality TV star says he now only gets to see a few of his kids every other weekend.
Following their very public divorce, Kate was left with primary custody of their 15-year-old twins, Cara and Madelyn, and 12-year-old sextuplets, Alexis, Hannah, Aaden, Collin, Leah and Joel. All eight children currently live with Kate in Pennsylvania.
"Everybody used to come to my house," Jon says. "You know, it was great, and then Madelyn and Cara just stopped coming, around 12-13 years old. I didn't question it. I was just like, 'Hey, do what you want, be with your friends' and then it just became they're not coming."
"Then I had six kids," he says. "I was just focusing on the ones that did come and then a couple years went by and then Collin stopped coming. I thought, maybe he just wants to do stuff with Mommy or whatever, and then it became long term."
"I haven't seen all eight of my kids together probably in three years. Three to four years," Jon says. "The kids that I do get are Hannah, Leah, Joel and Aaden. I guess the four have stuck together and said, 'We're going to Daddy's and that's it.' And maybe they'll raise a stink about it or something like that. Sometimes I get Alexis but not often. Madelyn and Cara, I don't see that much, or often. We're kind of not talking right now."
The 39-year dad also says that since the divorce, he doesn't have a relationship with Kate, 41 (above).
"I don't really talk to my ex-wife, so it's all kind of Helter Skelter," he says. "I have my life and she has her life. We have our life with our kids separately. We don't go anywhere together."
Kate is currently filming, Kate Plus 8 for TLC and has appeared on other reality TV shows including, Dancing with the Stars and Celebrity Apprentice.
In contrast to his wife, Jon has stayed away from reality TV. He recently made headlines after taking a part-time job at TGI Friday's. His new job only lasted for about a month after a photo of him working in the kitchen was shared online- causing him embarrassment and prompting him to leave his position.
"You know, I kind of walked away from everything so that my kids can have a life," he shares. "So that they would be taken care of, in their house, and things wouldn't change, because I knew I could survive."
Jon says his goal is to have a stronger and closer relationship with all his kids, but especially the older girls Madelyn and Cara.
"They're moving into womanhood," he explains. "They'll be 16 in October. I hope I can talk to them and develop a relationship in the future. But there's a lot of stuff that has to go on before that."
Photos: Google images