Jools Oliver Speaks About Her Miscarriage For The First Time And Hasn't Ruled Out A Sixth Child!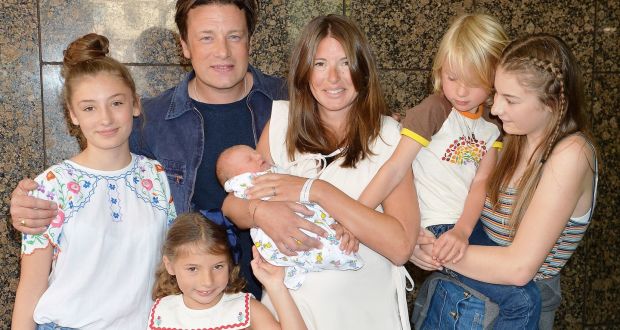 Jools Oliver Speaks About Her Miscarriage For The First Time And Hasn't Ruled Out A Sixth Child!
Jools Oliver has opened up for the first time about a miscarriage she suffered in the past. The 42-year-old wife of TV chef Jamie Oliver, didn't specify exactly when it occurred but she did reveal it was during her first trimester.
"I had a miscarriage at three months, which makes you so worried once you are pregnant again," the mum of five said. "It makes it impossible to enjoy the early stages of pregnancy."
Oliver, who is already mum to six-month-old River Rocket Buddy, 5, Petal, 6, Daisy, 12 and Poppy, 14 with her chef husband, says she hasn't ruled out adding a sixth child to their brood.
"I'm getting older, but I'd definitely do it again if I could," she said. "I think Jamie's finished, but you just never know. River's six months now, so we're past the really difficult sleepless first few months. He's such a joy."
At the age of 17,  Oliver was diagnosed with polycystic ovarian syndrome, which causes fertility problems for some women. Before getting pregnant for the first time, she had to go through intense hormone treatment.
"I didn't care how far I had to go," she said of the treatment. "You hear horror stories and you think it's going to be hard, but I didn't care. I just wanted a baby… It was awful, but I just thought: 'Keep going'.
"I'm sure any couple that has been through fertility treatment understands what I'm saying."
Oliver is about to launch the 'My Rainbow Baby' bodysuit as part of her 'Little Bird Clothing' collection at Mothercare this week. The rainbow logo is the universal emblem for families who have suffered the loss of a child.
"I'm so proud to be launching this gorgeous Little Bird 'My Rainbow Baby Bodysuit'," Oliver said at the launch.
"Tragically one in four women loses a baby during pregnancy or birth and when that happens it changes the lives of so many families."
A £1 donation from the sale of each £8 bodysuit will go to Tommy's, a charity funding research into pregnancy problems that lead to miscarriage, premature birth and stillbirth.
'It's such a responsibility to represent a charity that does such important work,' says Oliver.
'I had a close friend whose baby was stillborn, and I can't even imagine how you begin to cope with something like that.'
Photos: Instagram and Google Images