Katie Price Shares Adorable Photo Of Her Son Harvey And His Girlfriend Tia!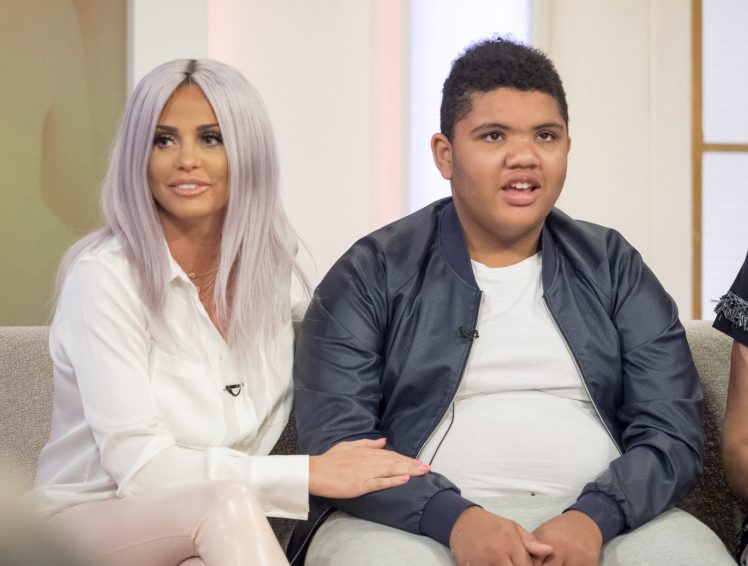 Katie Price has shared a picture of son Harvey and his girlfriend on Instagram. The 38-year-old mum of five, revealed that her 14-year-old son (who suffers from Prader-Willi syndrome, autism and ADHD) has a girlfriend called Tia who he met at school. Katie says the two have actually been an item for a few years now.
Katie captioned the cute photo with: "How gorgeous is this picture Harvey and his girlfriend today"
Katie, who has raised Harvey without any support from his biological dad Dwight Yorke, says that her son and Tia are very happy together. "They're so cute together," she said. "She bought him some aftershave and body lotion for his birthday."
The former model said Tia met the family for the first time at Harvey's birthday party held at their home in Sussex.
A photo posted by Katie Price (@officialkatieprice) on

"It was so weird to actually see them together when Tia came round for the party – it's like they're actually boyfriend and girlfriend. I don't think they kiss or anything like that, but I think they sit next to each other at school," she added.
Katie said she found out about the love affair after Harvey shared a photo with her from school.
"He came home from school after Valentine's Day last year and he had a picture of them both together. We asked him who it was in the picture and he said: 'It's Harvey's girlfriend.'"
While Harvey could potentially get married and have a family of his own, Katie says she can't really imagine him having children.
"Physically he could have kids but mentally he couldn't," she said. "It wouldn't be fair as he can't even fully look after himself, let alone a child or wife."
Photos: Google images and Instagram