Kim Kardashian Cradles A Sleeping North While Out In New York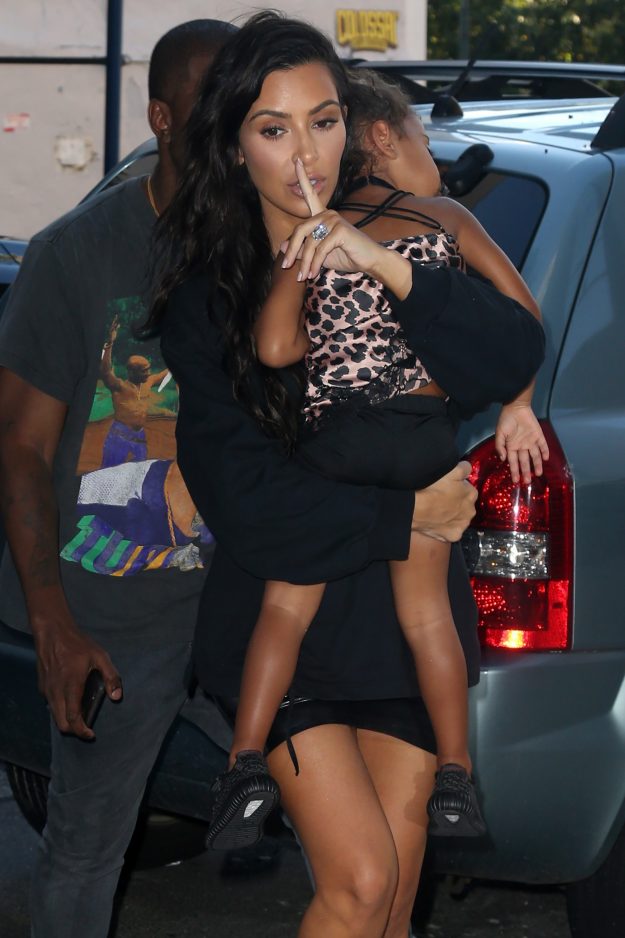 The West family spent a day out together in New York this weekend which included a visit to the theatre for the kids.
Kim Kardashian and husband Kanye West have been in New York this week where they attend the MTV VMA awards. Since then the couple and their two adorable children have been hanging out together in the Big Apple.
The reality TV star was spotted arriving at the hotel with a sleeping North in her arms. Kim even hushed the paparazzi to not wake up her four year old daughter. Haven't we all been there? Maybe not with camera flashes waking up our children but we all know how hard we try to not let others wake our babies! Kim was accompanied by her rapper husband who was wearing a Tupac t-shirt and a very serious face.
Later on the family was seen leaving the building, with Kanye carrying their son Saint West. Wearing an adorable camouflage outfit the nine month old tot was doted upon by his dad, while Kim walked ahead with North who was rocking her leopard dress and Yeezy kicks.
The Wests attended Seredipity3 for lunch and were later seen visiting AMC theatre in Manhattan.
At one point North looked to be frustrated with something while Kim remained cool and calm walking in her tie up leather heels.
Just your typical family really- trying to look like you have everything under control when really you're quietly losing your shit!
Photos: Google images