Kim Kardashian Shares First Close-Up Photo Of Baby Son Psalm!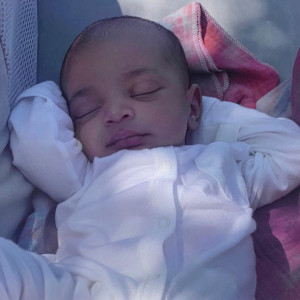 Kim Kardashian Shares First Close-Up Photo Of Baby Son Psalm!
Kim Kardashian West has shared the first close up photo of her second son Psalm with husband Kanye West who has born a month ago via surrogate.
The photo shows the adorable bub sleeping soundly and looking exactly like his famous mum Kim. In the caption, the doting mum revealed his full name to be Psalm Ye, which immediately saw fans writing in to comment on how much he looks like his younger sister Chicago – who incidentally is also Kim's mini me. One commenter wrote: "Literally looks just like Chi, obsessed," while another said: "Looks like Chicago." A third added: "Omg, he's Chi's twin for real."
Baby Psalm was born via a surrogate in May, with Kim confirming his arrival on Twitter writing: "He's here and he's perfect!" The post amassed up to 27,000 likes in less than ten minutes, with fans anxious to find out the new West baby's name.
Kim was asked about baby names while her surrogate was pregnant and she admitted to have looked up Armenian boys' names but couldn't really find anything. She then added: "I was truthfully thinking about just naming him Rob, my brother Rob, but then it's like, North, Saint, Chicago, Rob – it doesn't really go."
View this post on Instagram
The first photo of Psalm was shared by Kim on American Mother's Day with a post of a sweet screenshot of a text message conversation from Kayne. The message read: "Beautiful Mother's Day. With the arrival of our fourth child. We are blessed beyond measure. We have everything we need," and was accompanied with a picture of Psalm lying down in his cot.
We all know the Kardashians live their lives in public so it was no surprise that news of Kim's surrogate going into labour was shared on live TV by her older sister Kourtney. She appeared on The Ellen DeGeneres Show to spill the beans to her mum Kris Jenner as well as chat to host Ellen. "So, my mum doesn't even know this, but Kim's surrogate went into labour, so she's at the hospital," Kourtney told Ellen, Kris and the live audience. "What! What are we doing here?" Kris replied, looking visibly shocked. "Did anyone else know this?" Ellen asked, to which Kourtney replied: "No!"
View this post on Instagram
Gorgeous Psalm Ye joins his older sisters North and Chicago, and brother Saint. Kim announced the news that she was expecting her fourth child via a surrogate during her appearance on Watch What Happens Live in January. "Well, it's out there. I got drunk at our Christmas Eve party and told some people. I can't remember who I told because I never get drunk," Kim said, confirming that the couple were having a boy.
View this post on Instagram
Say what you will about Kim and Kanye but there is no denying the fact that these two make the cutest babies! Congratulations to the entire fam! He is gorgeous!
Images: Instagram