Kim Kardashian Wears One Particular Shoe Style a LOT!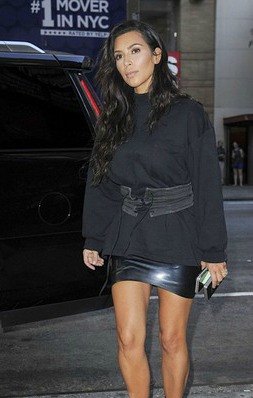 We all have a favourite piece of clothing that we tend to have on high rotation in our wardrobes. For me it's definitely my black skinny jeans and a pair of cool kicks. It's a simple and versatile base for my wardrobe which allows me to mix and match tops and jackets to my heart's content.
Kim Kardashian seems to be a creature of habit also. She looks to have a favourite pair of shoes that she seems to wear 90% of the time. Yes, I just pulled that statistic out of thin air but after looking at hundreds of photos of her I can safely say these shoes feature a hell of a lot!!
What am I talking about? Strappy sandals. Tie up heels. Whatever the correct term for them is – Kim wears them all time! While they're probably not the exact same pair, she definitely favours the lace up style over any other shoe.
Some of the shoes she's rocked are from Manolo Blahnik while her other favourites are Tom Ford. And if you're looking to pick up a pair without the designer price tag just click here– I'v found some for under $100!
Kim pairs these shoes with nearly every look- from casual in shorts and a t-shirt to a more formal look like this years VMA awards. And she seems to have them in a whole rainbow of colours too!
While the style doesn't look particularly comfortable, especially when she has one of her kid's in her arms, it is a look that she has definitely made her own. It works for her so my guess is she'll be sticking with it for a while yet.
Do you have a certain style you favour?
Photos: Google images