A Kindergarten Teacher Is Reunited With One of Her Students 30 Years Later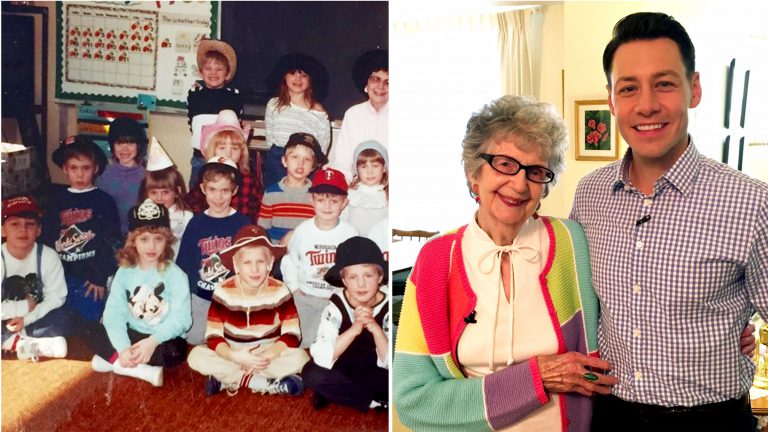 As adults we often remember back to our favourite teacher at school and reminisce about the way they made us feel- whether it was their love of teaching, their enthusiasm and dedication to the class or even just a fun activity they did with us. Never underestimate the lasting impression a teacher can have on a child.
The feeling definitely goes both ways. There are some students that will forever be engrained in a teacher's mind. But with hundreds of students passing through a classroom, it's a true show of dedication when a kindergarten teacher remembers a student after decades have passed.
This is exactly what happened when a news anchor in America had a letter sent to his parent's house by his kindergarten teacher. Cory Hepola, learned that Mrs. Schik- his former teacher from 30 years ago loved watching him on TV so much that she wrote a lovely note to his parents to let them know.
"Hi Diane and Terry," Lorly Schik wrote in her letter. "It is with a great deal of pride that I am now watching my former kindergarten student telecast the news on KARE-11. I still picture him as a small, dark-haired child in his K-desk!"
"I told my mum immediately, 'I've got to see her,'" Hepola, 33,said. "I couldn't wait, to be honest. I wanted to give her a hug and tell her, 'Thank you for everything.'"
The touching video shows Hepola and his former teacher looking at photos and sharing memories. When Hepola asks what Schik enjoyed most about teaching kindergarten, she responds, "Their enthusiasm and the fact that they made me feel loved — and I loved them."
Hepola's mum, Diane,  had written a beautiful letter to Mrs. Schik 30 years ago thanking her for teaching her son and stating what an amazing teacher she was. This had a huge impact on the kindergarten teacher and she held on to that note and would read it often.
"You have made a positive impression on Cory's life and many others. You should be very proud of your teaching skills," Diane wrote.
Diane went on to say of the reunion between her son and his teacher: "Connecting with Mrs. Schik brought back happy memories of Cory as a little boy who loved dinosaurs, the Minnesota Vikings and suspenders on his pants," Diane said. "We love that she reached out to us. We love that Cory took the time to reply back to her with his handwritten note to see if they could connect. And, we love that through this story of teachers and students, we realize the importance of taking a village to raise a child."