Kourtney and Khloe Kardashian Give Us A Peek Into Their Homes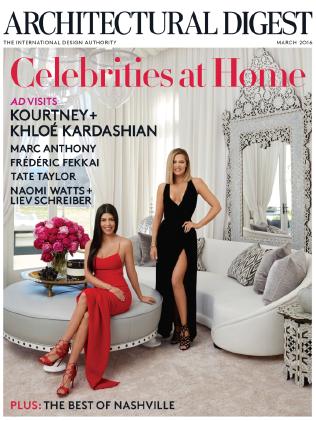 Famous sisters Khloe and Kourtney Kardashian, recently opened their doors to their lavish abodes for Architectural Digest's annual celebrity home issue. The beautifully decorated homes feature everything you would expect from these design conscious siblings. Everything is styled to perfection with rooms and spaces to die for!
"Khloe's place is glamorous, which suits her style. Mine is much more restrained and modern, which is perfect for where I am in my life," Kourtney said.
The designer Martyn Lawrence Bullard was called in to give the girls' homes a refresh and style that suited their different personalities and tastes. "Both of the girls were ready for something fresh," Bullard said.
Kourtney, 36, purchased her home from NFL star Keyshawn Johnson a few years ago and turned it into a modern home. A month later, a newly single Khloé, 31, bought Justin Bieber's old place in the same neighbourhood and transformed it into a romantic, Moroccan-inspired space.
"Khloé's house was a giant play palace built for a boisterous young man," Bullard said. "We decided to give it some romance, bringing it back to its Mediterranean roots."
Both homes are in Calabasas just around the corner from each other. Their half-sister Kylie Jenner also purchased a place here, and momager Kris Jenner lives minutes away with their sister Kim (she's staying at her mum's house with husband Kanye West and their children, Saint and North, while their new residence is being built).
Khloe says there's a big difference in the sisters' tastes — especially when they're shopping for furniture and accessories.
"Our tastes are very specific and completely different," she said. "When we go furniture shopping, I stand there tapping my foot while Kourtney shows me modern pieces. Then we head somewhere full of exotic, beautiful things and all she can say is, 'I like nothing here.'"
Personally all I need is Khloe's shoe closet/room and I will happily sleep on the floor with my doona!
Photos courtesy of Supplied and Architectural Digest.