Kourtney Kardashian's Pantry Looks Like A Supermarket!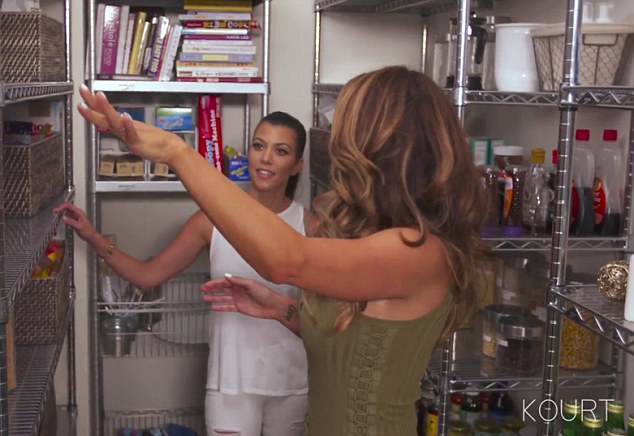 Kourtney Kardashian has given viewers a tour of her pantry which is basically the size of a studio apartment and has enough food to feed small country!
The reality TV star showed off her super-organised pantry when she shared video of a recent clean out with her friend Larsa Pippen. I use the term 'clean out' loosely here as there wasn't much cleaning that needed to be done- if any!
In a video posted to her website, the mum of three admits to being slightly OCD with food storage. Kardashian loves to have everything in rows all neat and tidy. She also puts everything in clear glass containers saying she feels it's safer that way.
"The food is sitting in it — you don't want all the plastic chemicals getting into your food," she explains. "And I feel like it looks cleaner than having a bunch of boxes."
All her glass jars are clearly labelled too. "I'm so OCD it's a joke," she says.
Not only does the health-conscious mum put everything into clear containers, she also uses a label maker to mark the expiration date on each jar!
I'm pretty sure you would struggle to find a half empty jar of peanut butter from 1989 back there or half opened crackers and chips!
Kardashian,37 says she likes to keep her healthy snacks on the bottom shelves so they are within easy reach of the kids- Mason, Penelope and Reign.

The mum of three uses woven baskets to store larger items like Halloween lollies and cookies. She has also managed to turn the standard metal shelves into chic storage as they're topped with sheets of glass!
Ok- so she probably has someone to do all this for her but I'm sure there are some tips we can take back to our measly little pantries at home, right?
Photos: KourtneyKardashian.com