Kylie Jenner Throws Daughter Stormi A Butterfly Themed Birthday Party!
Kylie Jenner Throws Daughter Stormi A Butterfly Themed Birthday Party!
Billionaire make up mogul Kylie Jenner threw daughter Stormi a whimsical butterfly themed party for her second birthday. The event also included the launch of Jenner's new make up range called 'Stormi' which was inspired by her one and only little girl.
Taking to Instagram to share the big day,  Jenner posted snaps which included a LOT of purple butterflies and glitter. It's unclear whether this was Stormi's actual birthday party or merely a pre cursor for the big day which is on February first.
It seems this 'little' get together was more to celebrate her upcoming Kylie Cosmetics collection dedicated to her daughter, which will be released on Stormi's second birthday next month.
"I think I've been waiting for this moment since the day I found out I was pregnant 😫🦋. An entire collection by @kyliecosmetics dedicated to my beautiful daughter 🤍 I can't wait for the reveal! You will fall in love," the reality star captioned her post, going on to share a preview photo of the products in the collection on Thursday.
View this post on Instagram
The Instagram pics show Jenner's backyard decked out in elaborate butterfly decorations for the bash along with tables with lavender butterfly-themed chairs and huge green arches set up over them.
Among the guest there were Stormi's cousins True, 21 months, Chicago, 2, and Dream Renée, 3 who all wore various shades of pink and purple. Stormi's dress was pink tulle decorated with butterflies and by the looks of things she absolutely loved wearing it!
"Each day is a blessing with you 🦋☁️," Jenner captioned her Instagram gallery of party photos. "Thank you God for these moments. it was beautiful celebrating stormi x @kyliecosmetics launching 2.1.20 ⚡️"
View this post on Instagram
Khloe Kardashian, Kylie's older sister also shared photos from the party showing desserts that included cake pops, mini multi-layer bundt cakes, butterfly cookies, macarons and more. At the center sat a stunning three-tier cake, decorated with white fondant, various florals and butterflies of all sizes in pink and purple.
For activities, kids could create their own glitter concoctions, play in a ball pit, hang out in Stormi's new cubby house and even take a ride on a swing set under a huge green display that read "STORMI."
Stormi's dad, Travis Scott,  also made an appearance at the party even though he and Stormi's mum are no longer a couple.
Seriously, how cute are these cousins hanging out in Stormi's cubby house- which incidentally is bigger than some people's apartments!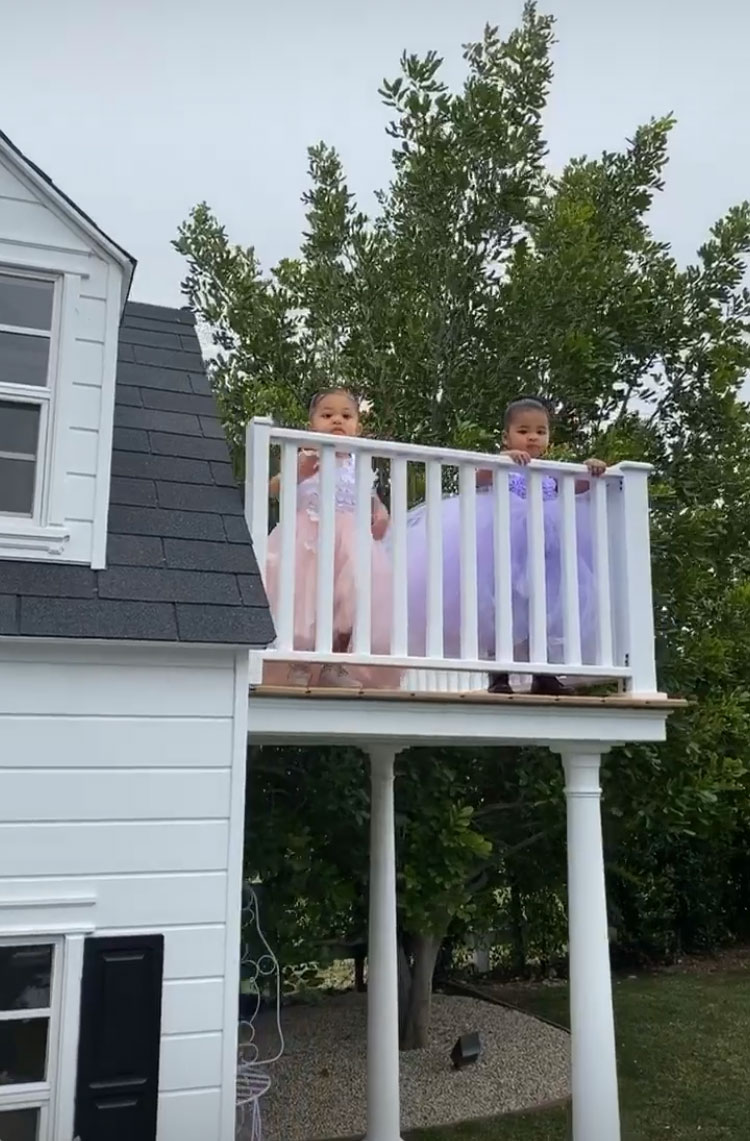 It was alway going to be hard to top Stormi's first birthday. I mean her mother had an amusement park-themed party called StormiWorld complete with rides and show bags. "I had to go all out for my baby. #StormiWorld," Jenner explained simply on an Instagram shot from the party.
View this post on Instagram
Images: Instagram