Kylie Jenner's House Is Filled With Roses For Her Birthday And Daughter Stormi Is Loving it!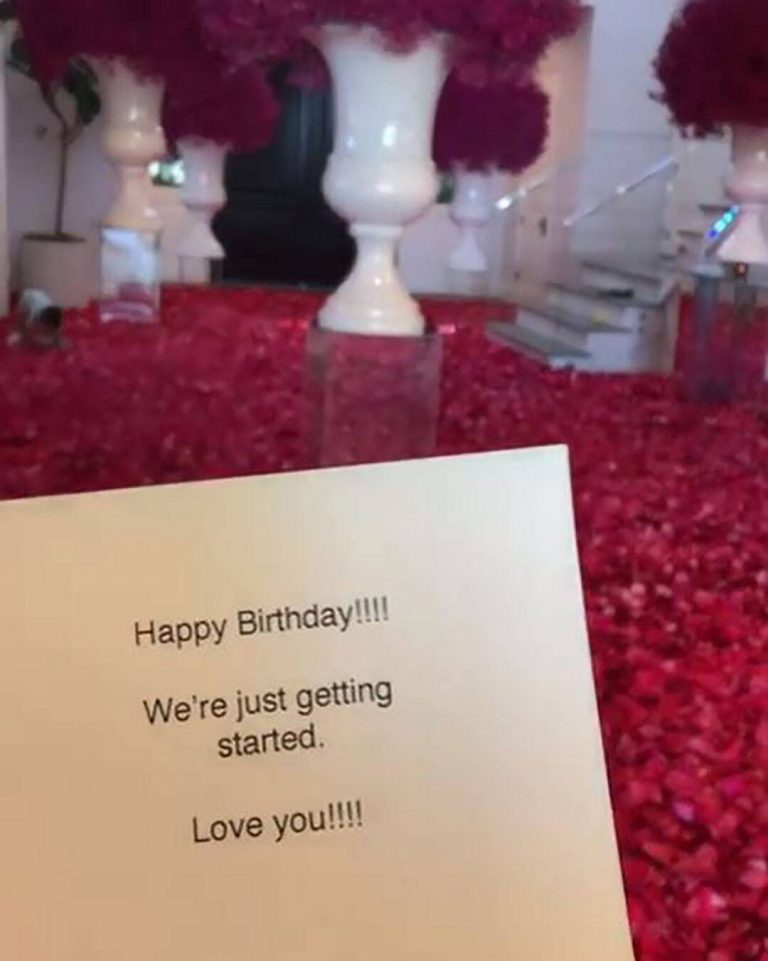 Kylie Jenner's House Is Filled With Roses For Her Birthday And Daughter Stormi Is Loving it!
Billionaire make up mogul Kylie Jenner turns 22 in a few days time and boyfriend Travis Scott has let her know the party is just getting started!
While most of us mere mortals are lucky to get a bouquet for our birthdays Jenner has woken up to find the whole floor of her foyer transformed into a magical bed of roses.
The moment of her walking magically through the flowers was captured on Instagram with a video of her holding up a card that read: "Happy birthday!!! We're just getting started. Love you!!"
Jenner's boyfriend and baby daddy Travis Scott was responsible for the elaborate surprise. The rapper looks to have taken a leaf out of brother in law Kanye West's book who surprised wife Kim Kardashian with a room full of roses and a serenade by Kenny G for Valentine's Day this year.
Jenner and Scott have been together since April 2017 and share daughter Stormi together who was born in February 2018.
Speaking of Stormi, she is clearly LOVING LIFE right now and can be seen marvelling over the thousands of petals and even throws some up in the air and watches as they shower down. Florist to the stars J'Adore Les Fleurs has said that because of the size of the space, the rose petals in the video would cost approximately $25,000!
Can you even imagine what Travis Scott has in store for Jenner for her birthday. Clearly it's going to be flashy and EXPENSIVE. Last year, he bought his "wifey" a vintage Rolls Royce from the '50s, which was estimated to have cost between $25,000 to $85,000. But he also kept things real by treating her to a pepperoni pizza!
Kylie Jenner kicked off celebrations herself by launching her new Kylie Cosmetics birthday collection which has a very apt theme…money! But before you start cringing, the reality TV star has announced she will be donating ALL profits from the sales to a charity. Stay tuned for more info on which one. Good on you Kylie…and happy birthday!
Images: Instagram