Kylie Minogue Reveals The Reason She Isn't Married Yet!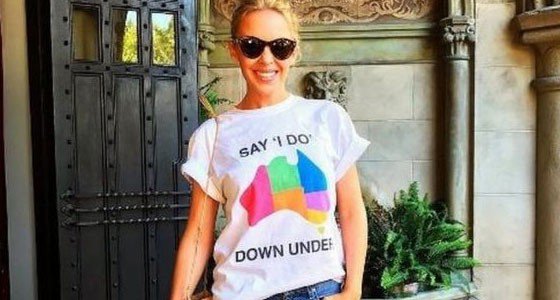 Kylie Minogue and her fiance Joshua Sasse have been engaged since February this year but they have no plans on getting married until same-sex marriage is legalised here in Australia.
British actor Sasse, spoke on Sunrise recently about the injustice same-sex couples face in this country. He believes it would be unfair for him and Minogue,47 to marry before gay and lesbian couples are allowed the same privilege.
"I wanted to tell you today on her behalf and our behalf that until this law has passed in Australia, we will not be getting married," he said on the show.
The brilliant & beautiful @MargotRobbie spreading the word and joining the @sayidodownunder campaign while hosting @nbcsnl THANKYOU MARGOT?? pic.twitter.com/anPb3b1jsy

— Say I Do Down Under (@Sayidodownunder) October 2, 2016
Sasse,28 is leading the 'Say "I Do" Down Under' campaign, which has gained some high-profile supporters like Aussie Margot Robbie. The actress appeared on Saturday Night Live on the weekend and used the opportunity to spread the message on marriage equality. Robbie wore a black shirt with the slogan 'Say "I Do" Down Under' with a rainbow map of Australia.
Other celebrity supporters include Dolly Parton and U.S. television host Kelly Ripa (see below).
@KellyRipa spreading the love & #sayidodownunder @LiveKelly @joshuasasse #love #lgbt #A4E thankyou Kelly ? – follow us @Sayidodownunder ? pic.twitter.com/ug6RT8sMwN

— Say I Do Down Under (@Sayidodownunder) October 2, 2016
Photos: Google images