Lady Gaga's Fans Hit Back At Trolls For Body Shaming Her During The Superbowl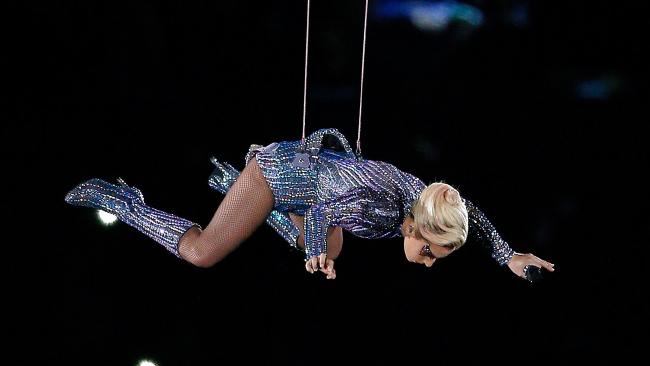 Lady Gaga's Fans Hit Back At Trolls For Body Shaming Her During The Superbowl
Lady Gaga gave an awe inspiring performance during the Superbowl's half time yesterday – which included 12 epic minutes of singing, dancing, leaping and just general awesomeness.
During one section, the 30 year old singer rocked the stage wearing silver shorts and a crop top. Flagged by her back up dancers she sang her heart out and gave THE most stellar performance.
And this is really where this piece should end. But here we are talking about the bullshit way women are critiqued not for their kick arse talents but for the way they look. It seems Gaga's stomach was 'less than perfect' in the eyes of some people and they found it necessary to take to social media and knock her down.
Comments like "Watching Lady GaGa's stomach hang over her pants," and "I can see why Lady Gaga was breathing so heavy, her stomach was protesting her #SuperBowl performance," are both offensive and  unnecessary.
In fact nowhere have I ever read about Bruce Springsteen's double chin or Ozzy Osbourne's flabby thighs. You know why? Double standard bullshit- that's why!
I mean Gaga even managed that incredible leap from the top of the stadium and yet headlines this morning were "Lady Gaga has flabby stomach during Superbowl."
But while it was difficult for some trolls to look past her apparent 'bulging tummy', Gaga fans were quick to hit back at the haters.
"For me, the star of the halftime show was Lady Gaga's normal-person stomach," one fan wrote.
"Shoutout to Lady Gaga's stomach roll for showing girls that you don't need to have a perfect body to absolutely kill it," another added.
Spectator's eyes were all on Gaga to see if she'd use the stage to have a dig at President Donald Trump, but instead she kept her message subtle.
"How are you doing tonight, Texas? How are you doing tonight, America?" Gaga asked. "We're here to make you feel good."
And that you did Gaga! What an exceptional performance!
Photos: Getty images