Lauren Conrad Shares the First Photos of Her Gorgeous Baby Boy!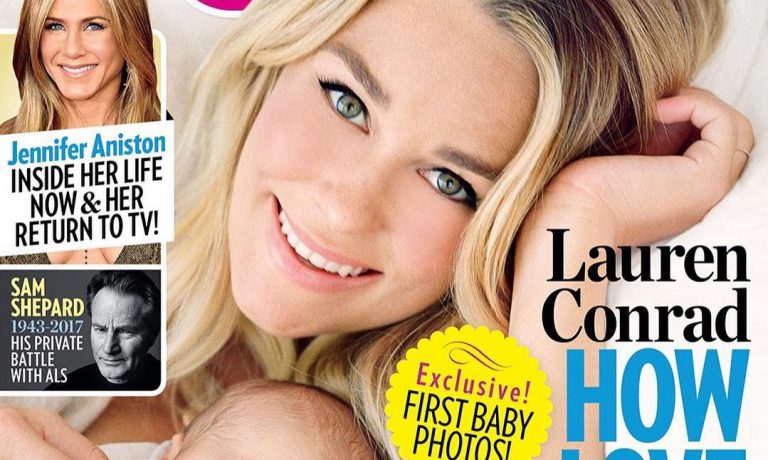 Lauren Conrad Shares the First Photos of Her Gorgeous Baby Boy!
Former Hills star Lauren Conrad and her husband, lawyer William Tell welcomed their first child into the world on the 5th of July — just a few weeks before her friend and co-star Whitney Port gave birth to her firstborn.
The couple named their son William "Liam" James.
"Before the delivery, I felt like I was getting ready for a blind date," Lauren told People. "We considered doing the 4D ultrasound but then decided to wait. I just remember thinking he was so cute — and I was surprised by how tiny he was."
"I was convinced I was having a giant baby, to the point where I didn't even buy newborn clothes — in my head he was 4 kilos.," she says of baby Liam, who was born weighing 2.8 kilos.
The 31-year-old fashion designer and her husband, 37, opted to find out the sex of their baby before he was born.
"I don't really love surprises," explains Conrad. "I like to have all the information. And I was sharing my body with someone — so I wanted to know as much as possible about him."
"I always hoped I would have a boy," she adds. "Boys are so fun. I was a tomboy, and I always play best with boys. When we found out, I was so excited."
Lauren seems to have the new-mum routine down pat already, and we're slightly envious if we're being honest.
"I feel so spoiled," she says. "Liam is such a good baby. I'm sleeping three to four hours at a time. This morning I was up at 4 a.m. and I wasn't even tired, so I cleaned the kitchen and did some cooking. William was like, 'You're crazy!' "
We're with William, that is crazy! New mums need all the rest. Although baked goods are also important, so we do understand the need to get up early and hit the kitchen.
"His last nighttime feeding is right around when the sun comes up, so I sit and feed him and watch the sun rise," she says. "He's funny to watch — he makes really funny little expressions. I'm already stressing out because I want him to stay this tiny and I know he won't. So I'm just trying to enjoy how itty-bitty he is."
"I was looking at him the other day, and I was like, 'I understand now why people keep having babies!' We'll probably have two. I think it's best not to be outnumbered," she added, wisely.
Lauren also described what sort of mum she wants to be and is clearly looking forward to the future with her little family.
"I want to be strong and teach him to respect women. The mother-son relationship is so important," she says. "And I'm just excited to play again! I can't wait to break out the finger paints. And I'm such a Disney nerd, so I get to watch those movies with someone who is seeing them for the first time."

"I worked hard to get here," she adds. "It took a lot. And it makes me appreciate my life now and value the peacefulness. I'm really lucky. And I know that."
Source: Instagram/People