A McDonald's Set To Open With No French Fries Or Burgers!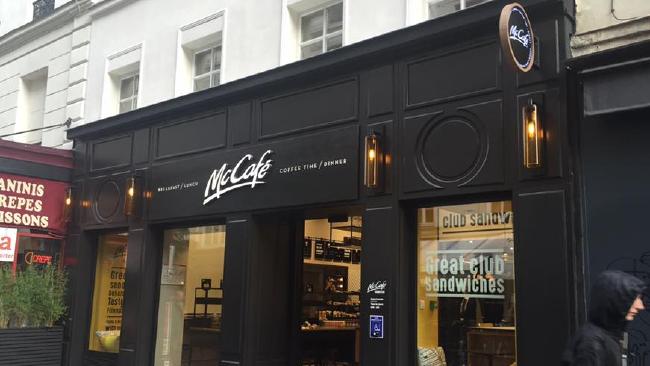 A new look Maccas has opened in the heart of Paris and it's as chic and stylish as you'd expect. The fit out is all sleek black with wood panelling and not a single scary clown mural, happy meal or french fry in sight!
The McDonald's Paris outlet has foregone the burgers to make way for macaroons, bagels and coffee.
French fare such as soup, salads and sandwiches are on the menu but there's not a single Big Mac or Royale  to be found.
French newspaper Le Figaro reports '"muffins, pastries, tiramisu, flan, cupcakes, marshmallow bars and brownies are also on the menu, along with yoghurts, plus espressos, macchiatos and lattes made with 100 per cent Arabica coffee. Aside from its name, nothing indicates that this restaurant belongs to the American chain".

While this concept may seem new for Paris it's one that has been working successfully in Australian since 2014. The Corner (above) is an experimental McCafe in Sydney's inner west which is right next to the RPA Hospital in Camperdown. The restaurant serves egg and bacon rolls on brioche buns, quinoa salads as well as  four-cheese toasties and pulled pork sandwiches. No fries, soft drinks or burgers here.
It remains to be seen whether the French version located on Rue Rambuteau in the centre of Paris works with the locals. It's part of a new direction for McDonald's which is seeing them experiment with various restaurant formats. Unfortunately when the French tried this back in 2010 it shut down within a year.
Sounds like the French aren't quite ready to give up their French Fries for macarons just yet!
Photos: Google images