Miley Cyrus Attends Luke Hemsworth's '80s Birthday Party With Fiance Liam!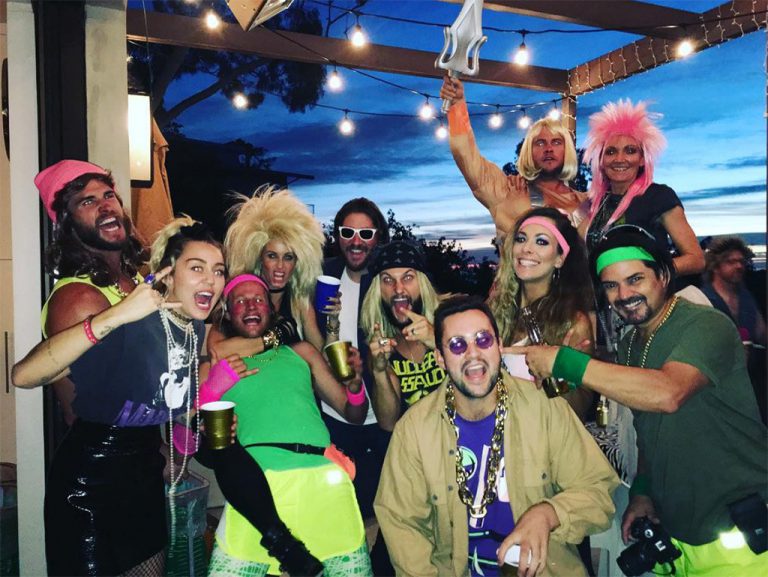 Miley Cyrus and Liam Hemsworth attended Luke Hemsworth's '80s-themed birthday bash over the weekend and shared plenty of photos on social media of the fun event!
Birthday boy Luke, was dressed as superhero He-Man, while Liam was clad in 80's style tight yellow tank top, red gym shorts and a mullet wig.

"Fabulous secret powers were revealed to me the day I held aloft my magic sword and said 'by the power of greyskull!'" Luke captioned the above photo with his bro.

Miley went in her Madonna inspired outfit consisting of several chains of pearls and a Madge T-shirt that she teamed with a leather skirt.
Luke's wife, Samantha Hemsworth, also posted some pics from the evening to Instagram.
"Like totally gnarly dude, the 80s are back! #80sparty #missingafewpeople @zacefron we missed you!! You better be in town for the next party! @oleemamiller @kalanimiller missed you beauties," Samantha captioned the Polaroid pics.
It's a very different Miley in these photos than what we saw of her just a few days ago. Miley took Hillary Clinton's defeat very hard. She went public with her emotional response to the election results last week, posting a video of herself crying online.