Did Miley Cyrus Just Announce She's Already Married To Liam Hemsworth With This Photo?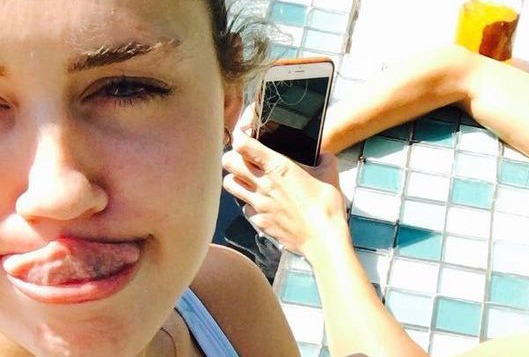 Miley Cyrus sent the internet into a buzz of excitement the other day when she posted a photo of herself and a friend lazing by the pool on Instagram.
The photo in question (see below) was posted on Sunday and shows Miley wearing a wedding band looking ring that is covered in diamonds on her finger. While this new ring is front and centre in the pic, her engagement ring is nowhere to be seen!
What does all this mean? Is she engaged? Is she married? And is that Seth Rogen on her bathing suit??
Sources in the past have hinted that Miley and Liam have been planning an August wedding and that they were having two wedding ceremonies (one on a beach in L.A. and one in Australia). Her dad, Billy Ray Cyrus also hinted that he may be officiating the weddings, and sources say that no one knows the exact date of the wedding except for the couple and their parents.
Just hurry up and get married you guys- we can't wait to check out all the photos and see what the bride will wear!