Miley Cyrus And Liam Hemsworth Attend Gold Party At Luke Hemsworth's House!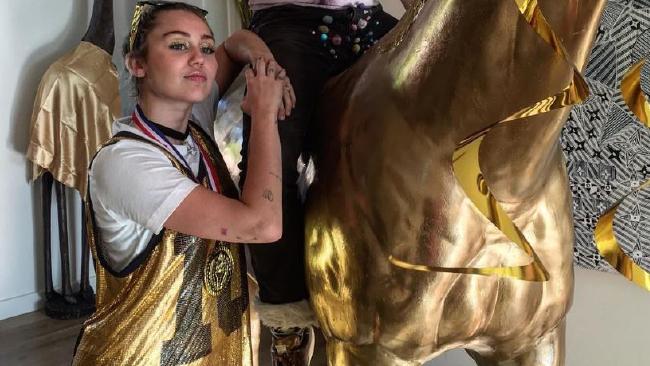 Miley Cyrus partied up a storm at her brother in law's house for an epic GOLD themed party over the weekend!
Luke Hemsworth and his wife Samantha held the party which featured a life-size gold horse and lots of nude body painting!
Liam Hemsworth, left, and his brother, Luke, with Flaming Lips frontman Wayne Coyne on a gold horse.
It may have been Samantha's birthday but Luke definitely took out the prize of the day with his head-to-toe golden cowboy ensemble that even featured a holster and gun. This Hemsworth really did outshine the others!
The birthday girl made sure she had the opportunity to mount the metal steed, which was brought in by Luke on the back of his truck.
Wayne Coyne who was Miley's tour partner, also attended the glittery party with gold ram horns and all!
One guest stripped off, covered in paint, and proceeded to "paint butterflies with butts", according to photos guests shared on Instagram.
Looks like the golden couple had a ball of a time!
Photos: Google images