Miranda Kerr Shares First Photos of Her STUNNING Wedding Gown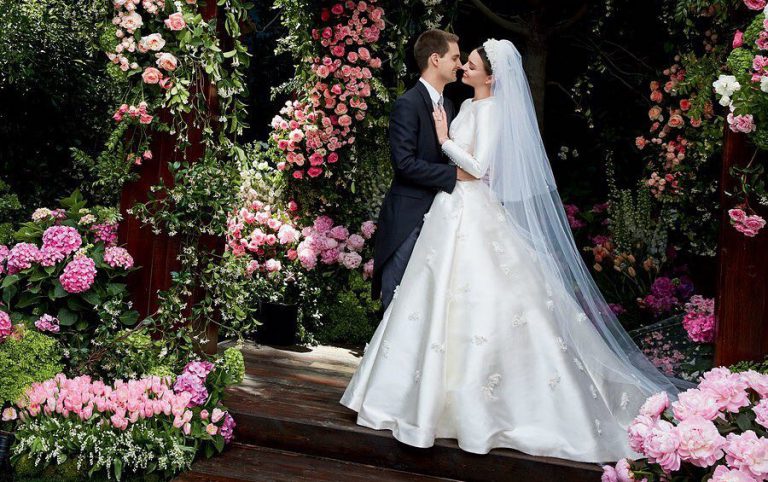 Miranda Kerr Shares First Photos of Her STUNNING Wedding Gown
Miranda Kerr has shared the first photos of her stunning Dior wedding gown in an exclusive Vogue piece. The Aussie supermodel married Snapchat founder Evan Spiegel in an intimate backyard wedding at their Californian home in May.
Miranda's long sleeved button-up gown was appliquéd with lilies of the valley and inspired by Grace Kelly's wedding dress. It was designed by Dior's artistic director Maria Grazia Chiuri.
Vogue shared some new details about Miranda and Evan's wedding — Miranda's mother and grandma were moved to tears when they first caught a glimpse of the gown, but Miranda reserved her own emotions for the wedding ceremony, weeping through her vows.
There was no bridal party, but ­Flynn, Kerr's six-year-old son with ex-husband Orlando Bloom, served as ring bearer. He joined his mother and stepfather for the first dance, wearing a navy-blue three-piece Dior suit and a lily-of-the-valley boutonniere.
Miranda revealed to Vogue that she takes her fashion inspiration from famous style icons and her nanna.
"I've had a lot of fun with fashion, and I used to be more wild, free, bohemian. But in this period of my life, my style is more pulled back. My greatest sources of inspiration have always been Grace (Kelly), Audrey Hepburn, and my grandmother, who at 80 has an effortless chic: a nice pant, a white blouse, a scarf, a little heel."
The supermodel from Gunnedah, in NSW's central west, shared a dress fitting with Vogue magazine earlier this year.
"We've had two fittings and everything just came together so magically and so beautifully," Miranda explains in the video.
"Honestly, I couldn't have imagined a more beautiful wedding dress," Kerr said a few days after the couple returned from their Fijian honeymoon.
We can't either, she looked breathtaking! Do you agree?
Source: Instagram/Vogue