Mum Compares Taylor Swift's Vagina To Her Daughter's Using a Ham Sandwich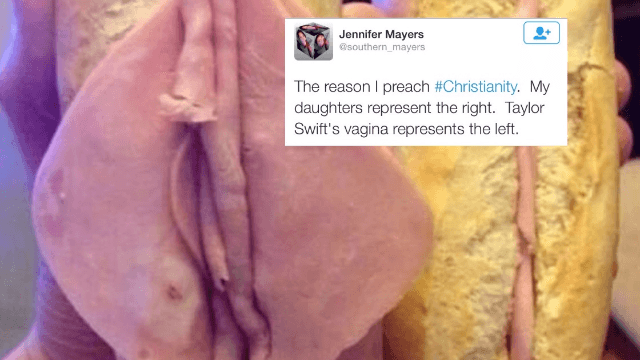 A woman has attempted to preach to her daughter about the 'damage' sex can cause to a vagina by using two ham sandwiches.
According to Jennifer Mayers, who calls herself a good Christian, the more sex a woman has the more her labia will loosen and hang over- like ham in a bread roll. The mum posted the photo below on twitter and since then it has gone viral- but not for the reasons she was hoping for.
I have so many issues with this post that I seriously do not know where to begin. Let's put them in point form shall we:
Having lots of sex will NOT cause your labia to expand- childbirth may- but grinding will not!
This is slut shaming plain and simple disguised as concerned parenting. Everyone's vagina is just as important and special as anyone else's. It is no-ones business as to how much sex Taylor Swift is or isn't having and what her vagina looks like!
Assuming that everyone's vaginas look like the neat little ham roll on the right is ridiculous and completely false. She is giving young girls the wrong impression of what a vagina looks like- because no two vaginas look the same!! There is no normal and to assume the one on the left is abnormal is very offensive!
What if your vagina looks like the one on the left? What then? Is it assumed you're a slut? That you're loose and easy? What if you're a virgin and you don't look like the roll on the right?
Is this meant to put you off having sex- cause for me- all it does is make me want to become a vegan!
This is just plain offensive to anyone with a vagina and is doing nothing but perpetuate the belief that women who have multiple partners are sluts- while their male counterparts are the studs.
The message we need to be giving our young girls is that their bodies are beautiful no matter what. Whether they have big breasts, small breasts, wide hips or wide labia it doesn't matter. They should love their bodies and we should be helping them develop a strong self esteem and positive body image. We need to let them know that having sex when they are good and ready is not wrong or anything to be ashamed of. The female body comes in all shapes and sizes and should be celebrated – not critiqued!
The mum's twitter posts received thousands of messages from outraged women who couldn't believe what they were seeing. Here are some of the responses to Jennifer's original message:
[email protected]_mayers which bit of Christianity waxed the pubes off of your baguettes?
@southern_mayers i bet your kids are as disappointed with these sandwiches as your god is with this tweet. #mysterymeat
Sex doesn't change the shape of the vagina. That's like thinking eating too many sandwiches permanently stretches your lips @southern_mayers
@1followernodad @southern_mayers the reason I preach Christianity to my daughters; I don't understand how vaginas work
@BathysphereHat Did you sew your daughter's vagina shut? I have concerns. @southern_mayers
Jennifer even tagged Taylor Swift in her tweet – God knows why! I'm sure the singer has better things to do with her time than look at photos of a badly prepared ham sandwich!
Photos via Twitter and Google images.