Why Stealing Milk From The Office Fridge May Not Be The 'Breast' Idea!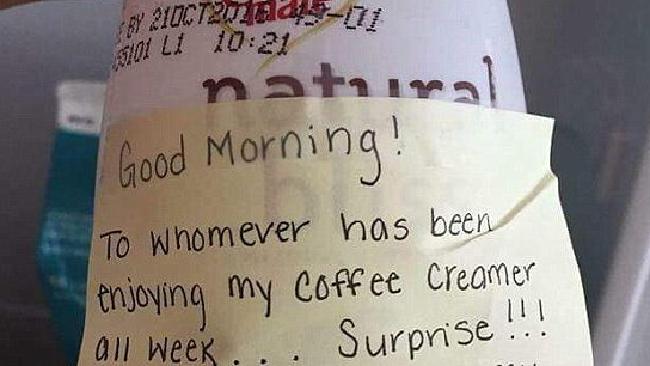 The office fridge is one of the most interesting and controversial pieces in a work place. It's usually filled with numerous plastic containers, with left overs from months ago, half eaten yoghurt tubs and lots of signs saying "this belongs to Sally, do not touch!"
But there is always that one person who does touch and will help themselves to your jar of vegemite or steal a slice of cheese hoping no-one will notice. And usually no-one does and life goes on as usual in the passive-aggressive world that is the office.
One woman though, had the ultimate last laugh when she noticed someone had been helping themselves to  her milk. Instead of jumping on the culprit straight away, she let him enjoy the milk all week before leaving this genius note:
"Good morning. To whomever has been enjoying my coffee creamer all week … Surprise!!!
"You've been drinking my breast milk. Hope you've enjoyed — cheers!
P.S. It's organic. So no worries."

Since uploading the photo of her sweet revenge to Reddit, the woman's pic has amassed more than 12,000 likes and 2500 shares — with some saying the thief should be pleased, due to breast milk's nutritional qualities.
"I would find out who it was and charge them for the great nutritional supplement they got for free.
Bet they felt great that week and didn't know why!"
No comment yet from the breast milk drinker!
Photos via Reddit.