New Mum Brittany Aldean Is Shamed For Taking A Baby-Free Holiday!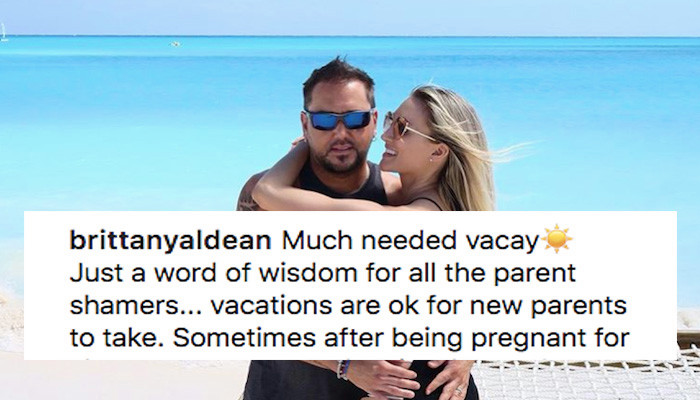 New Mum Brittany Aldean Is Shamed For Taking A Baby-Free Holiday!
New mum and wife of country singer Jason Aldean, recently shared a photo on her Instagram which sparked an onslaught of judgemental comments from (shock horror) other mothers!
It seems they were highly offended by the fact Brittany willingly left her 3 month old son Memphis behind while she went on holidays with her husband.
"Just a word of wisdom for all the parent shamers… vacations are ok for new parents to take," Aldean wrote in response to the haters. "Sometimes after being pregnant for almost a year, cooped up in a house for weeks at a time, you need a little sunshine and adult time. IT IS NOT OK to leave your ignorant comments. If you don't agree with something, PLEASE… do me a favor and unfollow me. You will NOT be missed. And for all the sweet, positive, happy people… we love you and thank you!!"
The shit storm started when the young mum shared a photo of herself on a private jet looking adoringly at a photo of her son with the caption: "Haven't even left Nashville and I miss him so much it hurts."
Instead of understanding exactly how hard those first few moths of motherhood are and how important 'me time' is the commentators instead chastised Aldean for daring to part with her baby.
"Hell no I couldn't do it. I can't even go on dates because I want to take my 17 month old with me lol," wrote one mum. While another said: "She didn't have to leave him. I really don't know who could at that young."
Are you kidding me? When will the mummy shamers quit bestowing their 'all knowing' advice onto the rest of the world? Like new mums don't have enough to deal with. I'm pretty sure they don't need to feel embarrassed and ashamed for taking a holiday with their husbands!
So if a couple (and I say couple because the father too is leaving his baby) chooses to take some time out together without their baby, is that really so bad? Isn't the mental health of the mum and dad even more important than being with your baby 24/7?
Perhaps a little time away from your baby is just what you need to recharge your batteries just enough so you can go back home and continue doing that kick arse job you're doing raising a baby?
And by the looks of it, Memphis seems to have coped just fine for a few days without his mum and dad. Who knows? Maybe he needed a little breather too?
Images: Instagram