Olena Dishes Out The Realest Moment Of Reality TV On The Bachelor!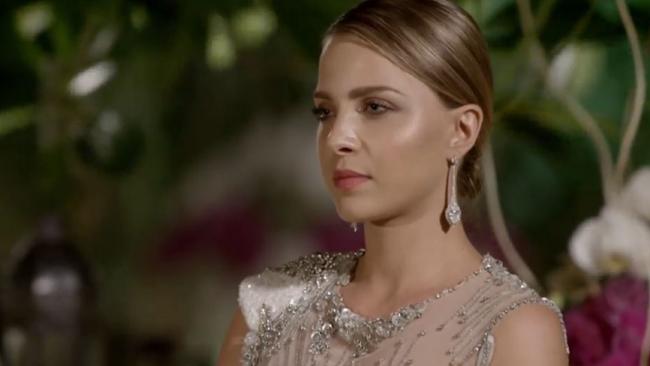 Reality TV is anything but real. Take The Bachelor for example. Here we have one guy who claims to want to find his 'dream woman' and 'happily ever after' on a show but in order to do so must 'date' and lead on a gaggle of women who are happy to put up with all his bullshit!
Until now that is! In last night's semi-final episode of Bachelor, one of the contestants Olena called out bachelor Richie and all his dreams of finding his fairytale ending on a reality show.
Olena was a hard woman to impress from the beginning and you got the sense she definitely had her head screwed on right. She didn't jump for joy each time Richie took her out on a date and didn't give herself up as easily as the other women.
When Richie asked her last night what her parents thought of him she was quick to give him a dose of reality.
The Ukrainian beauty said her parents had concerns with the fact they both live in different cities – Olena lives in Sydney and Richie lives in Perth. "I see that as a huge mess for me," she said. "It's travelling back and forwards for a relationship, like, is that going to last?"
Then things got even realer!  "Going into the home towns, sitting with my family and talking to them, made me question things so much more," she tells him. "As to whether you were living in a fairytale — this is the real sh*t. Be realistic about things — about the relationship, not about you. You're a great guy but there's more issues and more concerns and more things to think about."
Richie naturally blamed Olena and pointed the finger at her inability to communicate with him.
"When I think about the relationship I've built with Olena and I put it on a scale — there's patience and frustration," he said. "And it's starting to lean a lot more to the frustrations."
Olena wasn't done with her wise words just yet. "I feel like I'm really suppressing my feelings right now," she told him. "At the end of the day I'm thinking, is it too much of a hassle for us to have a relationship"
So during the rose ceremony last night there was little surprise that Olena wasn't one of the remaining two girls. Seems Richie's nose got out of joint by Olena's hard and real stance on where the relationship was headed.  "Saying goodbye to Olena wasn't that difficult," he said. "I want to be with a woman that's going to love me for me. And someone that's going to see challenges ahead and want to work and overcome them together."
Whatevs Richie.
Photos: Channel 10