Olivia Newton John Fears Daughter Chloe May Have An Addiction To Plastic Surgery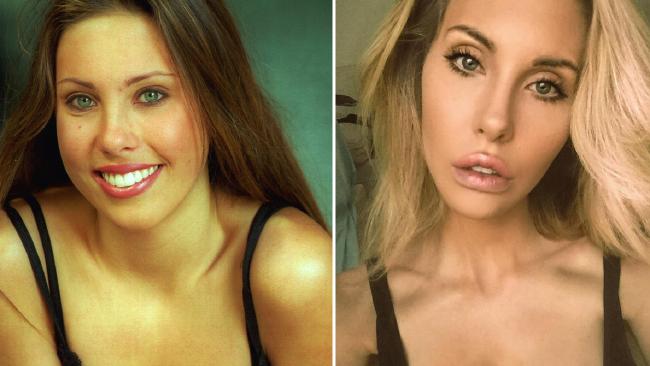 It's rumoured that Olivia Newton John's daughter with ex husband Matt Lattanzi may have spent up to $400,000 on plastic surgery as she deals with body dysmorphia.
A source close to 30 year old Chloe says it's obvious that her body has undergone a dramatic transformation over the years with her figure looking more and more like a doll's every day.
"Chloe's totally obsessed with getting a Barbie doll body and nothing is ever quite good enough," the source said. "She's got a horrible case of body dysmorphia — no matter how thin she gets, she always feels she needs to do more."
Repots even suggest she may have gone as far as removing a rib in order to achieve that sought after hourglass figure. Just by comparing photos of her previously to those today it's clear to see she looks completely different. Insiders say her surgeries include, Botox, a nose job, breast implants as well as waist and thigh sculpting "You just have to look at her hip to waist ratio to see something has changed," the source added.
A friend of Olivia's says she's always known her daughter had an addictive personality and is now worried she's out of control. "Olivia says Chloe has an addictive personality and tends to get carried away with things," the source says saying she fears her daughter could now have a plastic surgery addiction. "Of course, Chloe is denying having anything done, but the speculation hasn't stopped. The change is just too dramatic."
While speculation continues on her changing appearance Chloe has certainly managed to pick herself up since her drug and alcohol fuelled days. So confident is she in her sobriety that she recently posted a photo of herself at a liquor store pretending to drink alcohol with the hash tag "sober two years now" and "the drunk old days".
Whether or not Chloe has an addiction to plastic surgery remains to be seen but it's great to see that she has found love in the arms of her fiancee of six years James Driskill and seems to be finding herself and looking much happier than she ever has. Yet as a mother, I can totally sympathise with Olivia and her concerns for her only daughter. It must be heartbreaking to see your child go to such great lengths to change their appearance- whatever the reasons behind it may be.

Photos: Google images and Instagram