Olivia Wilde Calls Out Unrealistic Ad For Breast Pumps!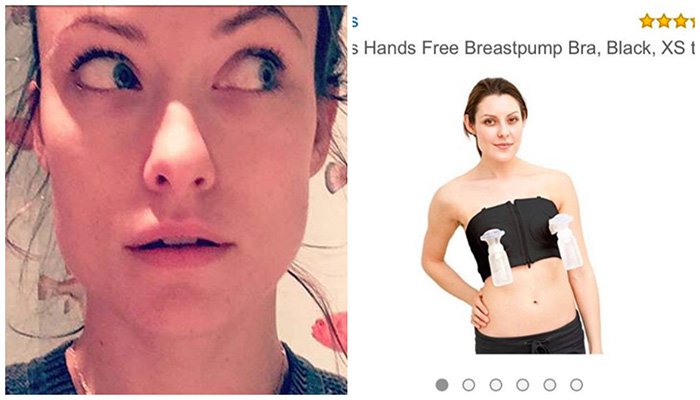 Do you remember using a breast pump? Or perhaps you're in the middle of pumping while reading this? I remember that God awful awful feeling of having my nipples being vacuumed by the contraption in an attempt to get a few drops of milk out. So painful!! I was one of those mums that just had no milk! I could pump for ages and only manage to extract a few mL. So suffice to say I gave up on breastfeeding in an attempt to save my nipples and my sanity. One thing I don't remember about using a breast pump is looking like this:
Above is an image Olivia Wilde shared on her Instagram which shows a commercial for a particular brand of breast pump. While the actress has no issue with the pump itself she does with the choice of model. Because as she points out- this is not a woman who's just had a baby and is pumping milk. Clearly! Here's the caption Wilde shared: "Real quick just wanna take a break from online (lazy-person) x mas shopping to call bullshit on this ad for a breast-pump bra cuz this lady definitely did not recently birth a child who requires breastmilk to be pumped. Also want to give a quick cyber hug to this model who had to pretend to have recently birthed a milk-fed baby-child when she clearly has spent the last year lifting tiny weights and meditating." Exactly! Of course it's not the model's fault- she's just doing her job- you know- managing to look gorgeous while being strapped to a breast pump. But in all honestly, why wasn't a real breastfeeding mother used for this image? At least that way mums that are looking to purchase the pump would know what it would look like on a real nursing mums body. You know with engorged breasts that have veins running up and down them. With a soft squishy tummy and slightly bloated legs that haven't quite gone down yet. Why not? Well it seems some men who responded know 'why not'. Here are some responses from the other side: "It's not like there's a lot of women that have recently given birth in the low end modelling world. Relax." "Because they're trying to sell a product. Wouldn't you want to use the most appeasing-to-the-eye model to sell your product?" "What? Is this is a company that sells a wide rang of accessorised clothing its not cost effective for them to hire a recently-new-mother looking model who's body will change in a few months anyway just to model one thing." Words of wisdom right there, right? The manufacturing company of the bras did however respond to Wilde's message with a much more positive response: "We love hearing you and so many mums commenting on this post, we love our bra. We are so honoured to be able to serve so many mums as well. And we are looking for mums to be in our video shoot in the spring-please reach out to us if you're interested!" And that's another win for one of our favourite celebrity mums. We love the fact Wilde just keeps things real without pushing unrealistic expectations onto new mums. Check out a recent post she shared of one of her favourite hair styles she calls "keep the kid alive." Eerily similar to what my hair is looking like today!
Photos: Instagram