Parents Show Support To Chrissy Teigen As She Shares Photos Of Baby Miles In His Helmet!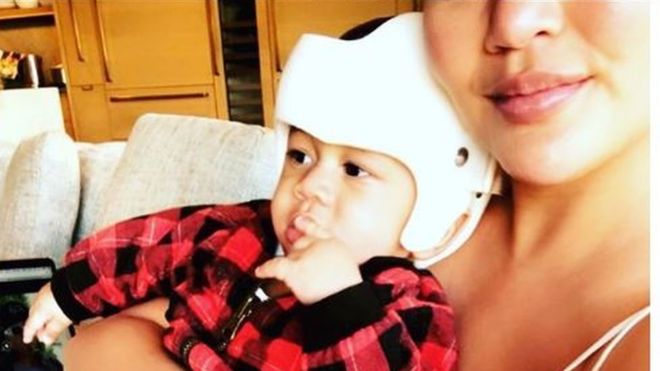 Parents Show Support To Chrissy Teigen As She Shares Photos Of Baby Miles In His Helmet!
Chrissy Teigen has taken to twitter to share a photo of her six month old son Miles wearing a helmet which he's just been fitted for.
The model, chef, and TV host wrote on social media that Miles needed the helmet to fix his "adorable slightly misshapen head."
On Instagram Tiegen wrote: "My baby bug got his head shaping helmet today! Please don't feel bad for him if you see photos. He is a happy bug and we're just fixing his flat."
Flat head syndrome other wise known as plagiocephaly and brachycephaly is usually treated with the aid of a helmet or using pillows to get the baby to lie in a different position.
The syndrome is super common and affects one in every five babies born. It can be corrected quite easily as a baby's skull is relatively soft and can change shape if constant pressure is applied.
Babies usually get flat heads from sleeping on their backs, which they need to do to reduce the risk of sudden infant death syndrome (SIDS).
The adorable photo of Miles (who incidentally is the spitting image of his dad John Legend) has received more than than 1.1 million likes and has prompted many parents to share pictures of their own children wearing helmets.
My daughter was born with Craniosynostosis. At 8 months, her skull was removed and reshaped. Today, she is a healthy, happy 7 year old! Go Miles! #CranioWArriors pic.twitter.com/Oa8rWmerX6

— BePresent77 (@TD6030) December 4, 2018
The mum of two later tweeted her appreciation for everyone's show of support.
it is SO cute. you guys are very sweet. https://t.co/IiPJ5WiT7U

— christine teigen (@chrissyteigen) December 3, 2018

And speaking of appreciation…you guys will definitely appreciate this adorable video of Miles' older sister Luna trying to teach him how to hold his milk bottle properly…'two hands Miles, two hands!' So freakin cute!
View this post on Instagram
Images: Twitter and Instagram