Police Stop An Attempt To Kidnap Katie Price's Eldest Son Harvey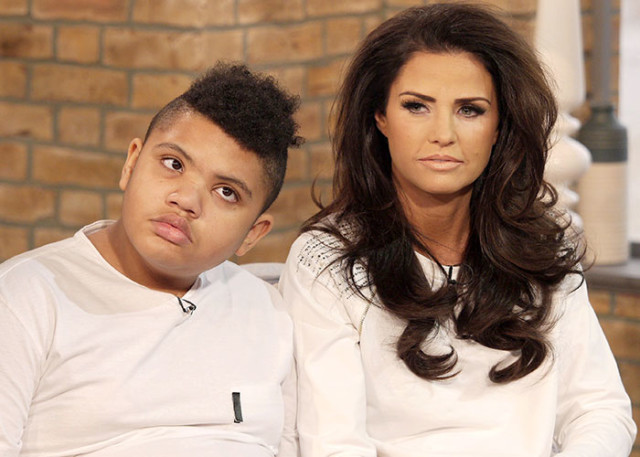 Katie Price has revealed that another attempt was made to kidnap her and her family after a hidden tracking device was found on her car.
The 38 year old former glamour model had her famous pink Range Rover taken away a few weeks ago by detectives who were tipped off about a kidnapping attempt on the star and her family. Katie, who is mum to five children (Harvey 14, Junior 11, Princess 9, Jett 2 and Bunny 1) said this particular gang was after a million dollars ransom money and they were targeting her eldest son Harvey (above). This is the third attempt in recent years on Katie and her kids and it seems the methods of getting to her are becoming more and more sophisticated.
Detectives say that one of the plans was to fake a car accident and snatch Harvey during the process only to demand money for his release later.
Katie spoke about the ordeal on UK TV saying: 'I've been through the ordeal of kidnapping threats a few times before and it is terrifying. One million pound ransoms and stuff. Scotland Yard actually knocked at my door – they knew exactly what was going to happen. Just a few weeks ago when I took my car in for a service, my mum got a call from the police after a mechanic had found a tracking device hidden on it. The police had to keep my car afterwards for inspection.
The mum of five refuses to live in fear despite being extremely worried for the safety of herself and her children. 'The thing is, if they're going to get you then they're going to get you.
You can buy all the security you want. I've got panic buttons and everything like that. But if something did happen, by the time the police would be able to get to my house, they would have already got me.'
I live in the countryside and I don't have any neighbours or anything like that, so I do feel quite safe. I feel my kids are quite safe.
You can't let these things affect you. It was really frightening at the time yes but you have to get on with your life.'
Photos: Google images