The Reason Why Prince George Always Wears Shorts!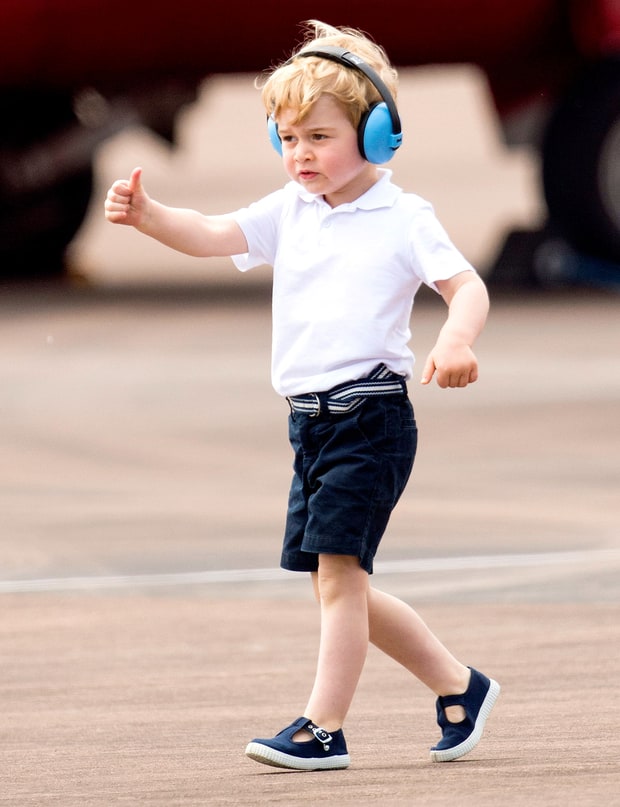 Prince George is the quintessential royal toddler with his rosy cheeks, brown eyes and perfectly coiffed blond hair. But have you ever taken a closer look at his very traditional attire? Ever noticed he never wears long pants and is always in shorts and long socks? Even in the freezing Canadian weather recently, little George donned his adorable red shorts and left us all wondering – why doesn't mum Kate just put some pants on the poor child?!
The reason is very simple. Tradition! "It's a very English thing to dress a young boy in shorts," etiquette expert William Hanson said recently. "Trousers are for older boys and men, whereas shorts on younger boys are one of the silent class markers that we have in England. Although times are slowly changing, a pair of trousers on a young boy is considered quite middle class–quite suburban. And no self-respecting aristo or royal would want to be considered suburban. Even the Duchess of Cambridge."
In fact if you recall, even Prince William and his younger brother Harry were dressed in shorts when they were younger, until they became old enough to wear long pants.
Although Kate may see herself as a very modern Princess, the fact that she is dressing Prince George in shorts is seen as a respectful nod to the past rather than to differentiate the family from other classes.
"The British upper set are always keen to hold onto to tradition, and this one also silently marks them out from 'the rest,'" Hanson explained. "A newborn boy would be dressed in a gown for their first year or two (these gowns are the modern day Christening robes), and then he was 'breeched' and wore articles of clothing that more resembled shorts or trousers than dresses," Hanson said. "The usual custom is that a boy graduates to trousers around eight years old."
"If you look back at old paintings of children from aristocratic paintings, you see little boys aged two and under dressed as girls, wearing gowns and dresses," Hanson continued. "In the 17th and 18th centuries, boys of age three or four were put in breeches, which are basically shorts."
And there you have it – wonder no more!
Photos: Google images