Ryan Reynolds' Twitter Feed Proves He's Won At Parenting!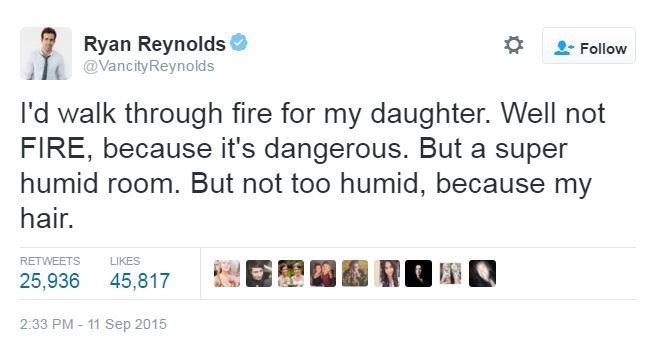 Ryan Reynolds' Twitter Feed Proves He's Won At Parenting!
Ryan Reynolds has given us a hilarious look at parenting via his twitter feed!
The Hollywood actor has two gorgeous daughters with wife Blake Lively and it seems they have been giving him daily inspiration for his laugh out loud recounts of parenting – Reynolds style!
The celebrity couple have daughters James,2 and Ines,5 months at home which pretty much makes them experts in parenting. Either that or they're so sleep deprived they have no idea what they're saying or doing.
Reynolds has been quietly sharing the hilarious tweets to his followers which include favourite kid moments like poo explosions, travelling with babies and bedtime stories.
The short, witty posts definitely deserve to be collated into a parenting guide for new parents! First time mums and dads deserve to have a book that mixes reality with humour- cause let's be honest, if we can't laugh at how much our lives change post kids then we have no hope of surviving this thing called parenting!
Reynolds is the definition of a new age man. He's often spoken of his admiration for Lively and often says what an amazing mum she is. In fact we think he may be one of the greatest celeb dads of all time! Once during an appearance on Late Night with Seth Meyers, he gave the best piece of dad advice ever!  "Just do the dirty work, man. You gotta do the diapers, you gotta do the middle of the night thing. I mean, your wife — a human being will exit your wife, so she's done enough. Just change the diapers and do all that stuff."
Ryan Reynolds we love you!! And thank you for making us LOL with your hilarious tweets, we can 100% relate to all of them!
Went to Disneyland because my daughter's obsessed with Mickey Mouse. She was so excited when I got home and told her.

— Ryan Reynolds (@VancityReynolds) January 30, 2017
Damn it's hard letting your infant daughter go somewhere alone for the first time. I was a total mess dropping her off at Burning Man.

— Ryan Reynolds (@VancityReynolds) September 7, 2016
My daughter's only 6 months old and already drawing. I'd hang it on the fridge but honestly, it's absolute garbage.

— Ryan Reynolds (@VancityReynolds) June 19, 2015
After this morning's diaper, my daughter finally earned the teardrop tattoo on her face.

— Ryan Reynolds (@VancityReynolds) June 14, 2016
My daughter just sneezed into my yawning mouth. Seemed really fucking pleased with herself. Joke's on her. She'll have to bury me someday.

— Ryan Reynolds (@VancityReynolds) April 16, 2016
No matter which kids book I read to my screaming baby on an airplane, the moral of the story is always something about a vasectomy.

— Ryan Reynolds (@VancityReynolds) August 7, 2016
I'm teaching my daughter that the sun goes down each night because it's mad at her. Probably gonna write a book on parenting at some point.

— Ryan Reynolds (@VancityReynolds) June 5, 2015
Got totally messed up on probiotics last night and digested the fuck out of dinner.

Having a kid doesn't stop this party train.

— Ryan Reynolds (@VancityReynolds) August 28, 2015
Tinder isn't a babysitting app. Apologies to Crystal and Janine for the misunderstanding.

— Ryan Reynolds (@VancityReynolds) August 19, 2016
Love writing nursery rhymes for my daughter. Her favorites are, "Sunshine-Cuddle-Time!" and "Everyone You Know Will Eventually Die."

— Ryan Reynolds (@VancityReynolds) November 11, 2015