Sandra Bullock Says "I'm So Tired Of Being Called An Adoptive Mother. I Am A Mother."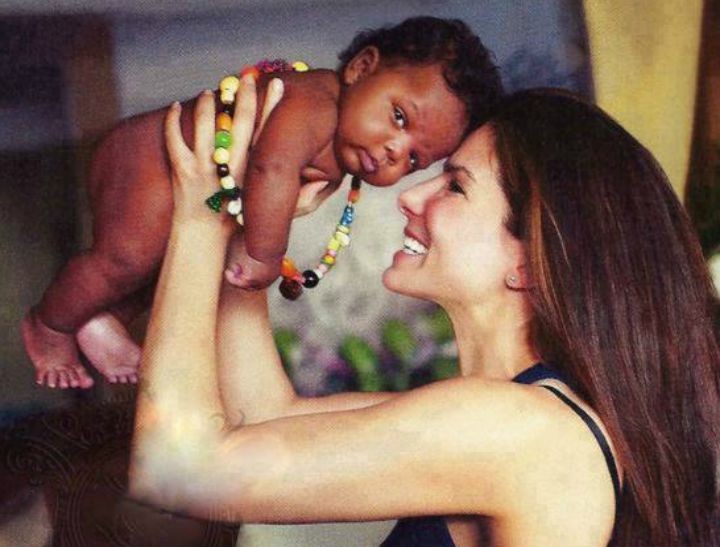 Actress Sandra Bullock shared a heartfelt post on her Facebook page recently where she addressed exactly  what being a mum meant to her. It has nothing to do with giving birth and everything to do with giving love.
The 51 year old award winning actress has two children which she adopted from Louisiana- Louis, 6 and Laila,4.
Her Facebook message read:
"I'm tired of hearing from everyone that he is not my child, that he is not my blood. That I am a so called "Adoptive Mother".
I am a Mother. I need no other label or prefix.I know I've adopted him and I am proud of it. He may not have my eyes, he may not have my smile, he may not have my skin tone, but he has all my heart. A mother is a person who raises, loves and provides for the child. It doesn't matter if you share the same blood or not.
I hold my son in my arms and thank God for bringing him to me. If the standard route for creating a family had worked for me, I wouldn't have met this child. I needed to know him. I needed to be his mother. I know now why all those events happened. Or didn't happen. So I could meet this little boy. He is, in every way, my son.
I enjoy Motherhood now. If all of a sudden someone said, "You have five more kids" , I'd be totally OK with it.
So guys Share this if you love your Children who are lucky to have you and to have a beautiful home. Let's hope that Everybody reads this especially those who consider adoption as a Taboo and are against it. It's perfectly fine to adopt. It is a gift of Life. The desire of your heart can give a child a home."
Becoming a mother is possibly one of the most fulfilling things a woman will experience but it can also be a heartbreaking struggle for many. Motherhood shouldn't be about 'how' your child found it's way to you but 'how' you love the fact that it did. Whether you're a mother through IVF, surrogacy, adoption, fostering or a step family you are still a mother. There should be no doubt in your mind that the love you give this child surpasses anything else- especially lack of the same DNA. Adopted children may not have their mother's eyes, but as Sandra Bullock put it so beautifully, they have their mother's heart. And that's all that really matters.