Sarah Wilson Wants Us To Give Up Presents This Christmas- and I Kind Of Agree!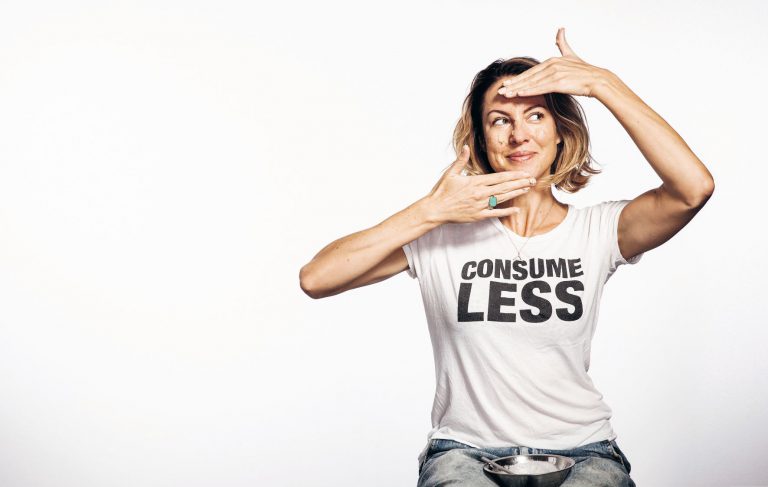 Sarah Wilson, of I QUIT SUGAR fame, has a request for us all. Not only would she like us to give up sugar for the good of our health, but now Wilson has said that exchanging gifts is something she would like us to stop doing over Christmas.
Writing on her blog this week, Wilson has spoken about the ridiculous nature of existing gift guides for 'the hard to please.'
"It's all s**t no one wants. S**t that takes up room in miscellaneous kitchen drawers and precious resources on the planet. Like gold-plated business card clips. And, sorry to target Goop, but, seriously … a Nymphenburg trio of porcelain wine bottle stoppers?! For $1900?
"I have an antidote. A better solution. A better guide. If someone is 'hard to please' it generally means they don't want/need stuff. So don't buy it."
Wilson then goes on to explain that she specifically requests no gifts on Christmas and birthdays, preferring pictures of flowers to genuine flowers, and 'experiences' (kayaking, surfing etc) instead of presents.
The world, Sarah believes, is mad with rampant consumerism, and we need to stop it right here, in our own lives.
I hate to say it, but I think I agree with Sara on this one. Sure when she said I can longer put honey on my toast I thought she was the anti-Christ, but this whole crazy consumerism we fall into every year is something I too have a problem with.
Shopping centres around Christmas are as close to hell on earth as you're ever going to get. The chaos starts from the car park and goes all the way to the checkouts where you find yourself standing in line for half an hour to pay for ridiculously over priced wrapping paper for a bunch of shit someone is going to unwrap and then proceed to toss in a bottom drawer, or even regift.
Don't get me wrong, I love receiving gifts as much a the next girl, but what I don't appreciate is the pressure to tell you exactly what I want. If I tell you what I want then it's not really a gift is it?
My kids feel the same pressure and anxiety too when they need to write to Santa or tell family members what they want. You see, kids these days are totally different to what we were like growing up. I bet you waited for special occasions to get a gift, right? These days kids get gifts ALL the time. For going to the toilet and not in their pants. For being good kids at swimming. For eating all their dinner. They are never really pining for a gift. So come Christmas time, they are just adding to their stockpile of toys that they will open, play with for 5 seconds before they ask to go on the iPad again!
So yes, Sarah makes a great point. Perhaps this Christmas, instead of buying crappy little plastic, made in China crap to fill the Christmas stocking, you can buy your family an experience- a horse ride around the city, a boat trip across the bay or even dinner in a really fancy restaurant. Something that will create memories instead of creating more land fill.
Just a thought. What do you think?
Photos courtesy of Google images