Is Scientology Keeping Tom Cruise Away From His Daughter Suri?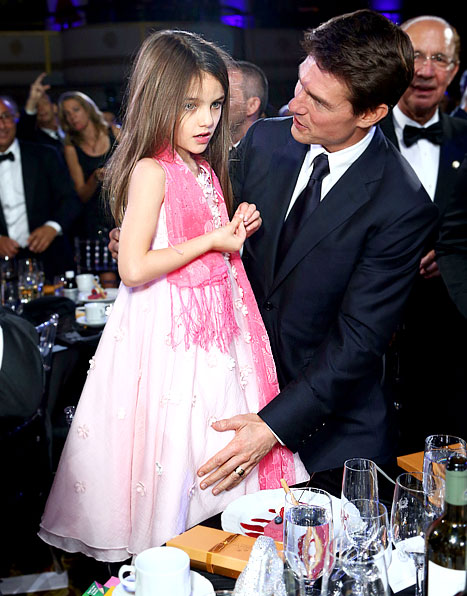 Scientology is said to be keeping Tom Cruise away from his only biological daughter- Suri- who he shares with ex wife Katie Holmes.
According to sources in Hollywood, the actor has not seen his 10 year old daughter for over three years. However he is in regular contact with his adopted children Connor and Bella who he shares with ex wife Nicole Kidman (they too have not seen their mum Nicole for many years and no longer speak to her).
The Church of Scientology is a controversial 'religion' with many questionable practises. Among those is the fact that scientologists must cease all contact with friends and family that are no longer in the church. Anyone who leaves the cult religion, is said to be a Suppressive Person and should be kept away from other members.
The definition of a SP (suppressive person) according to the Scientology handbook is: a person who seeks to suppress, or squash, any betterment activity or group. A suppressive person suppresses other people in his vicinity. This is the person whose behavior is calculated to be disastrous. "Suppressive person" or a "suppressive" is another name for the "antisocial personality."
So when Tom and Nicole broke up she was deemed to be a SP by the church so therefore Tom and his kids were made to stay away from her. In that instance Tom managed to keep the kids. They had already been indoctrinated to believe their mother Nicole, was an evil person.
Things with Katie Holmes however were a lot trickier. Katie saw the grip Scientology had on her husband Tom and didn't want her daughter to follow down the same path. She had already seen the pain Nicole Kidman endured when she lost her children and she was adamant not to let that happen to her and Suri. So Katie took Suri and ran!
What did this mean for Tom? It meant that once again he had to make a decision. Scientology or his family? Katie and Suri were now deemed to be SPs and therefore could not be around Tom.
The church of Scientology had worked too hard to enlist Tom Cruise into their ranks and they were not going to lose him to Katie. And they didn't!
Tom hasn't seen or spoken to his daughter in over three years. As long as he is a member of Scientology he must stay away from his daughter. Even if she is his own flesh and blood.
Photos: Google images