Would You Serve Up A Pimple Popper Cupcake At Your Next Party?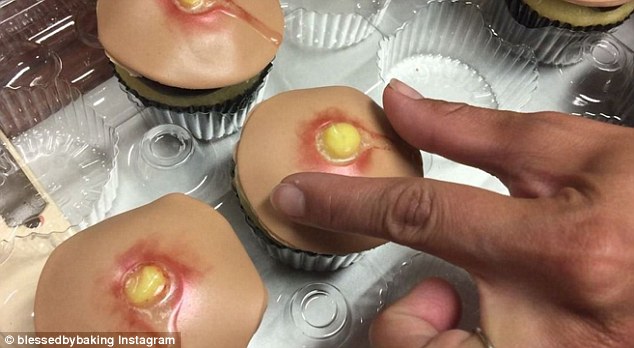 A baker in California has created some utterly disgusting looking cupcakes inspired by YouTube sensation Dr. Pimple Popper.
Fans of Dr. Pimple Popper would be familiar with the videos which include clips of pimples, blackheads and cysts being popped. The visual alone can make you sick to your stomach, but one baker decided to use it as inspiration for her range of cupcakes. Blessed by Baking in California have come up with these cupcakes you can actually squeeze!

The treats are made with a light brown fondant draped over the cake to resemble the skin. In the centre is a  small hole filled with yellow 'puss', made from custard or lemon curd.
The bakers sent the desserts over to the queen of zit-popping, Dr Sandra Lee, who shared a picture and video clip of the cakes.
She says: 'How can something so pus-like taste so good?!?! Pimple cupcakes by the amazing Blessed by Baking.'
The Instagram video of her using her fingers to push down on the cake has had over one million views and has also been uploaded to Facebook where it has been shared over 15,000 times, with over 36,000 comments.
Many said the cupcakes had turned them off sweets for life! And it's easy to see why!
If you can't stomach the pimple popper cakes, Blessed by Baking also have a range of less gross yet still quirky designs like the one above which resembles a cup of pop corn.
I know which ones I'd rather be eating!!
https://youtu.be/G2Ssexv_cq8
Images via Instagram.