Shannen Doherty Is Touched By An Act of Kindness From A Stranger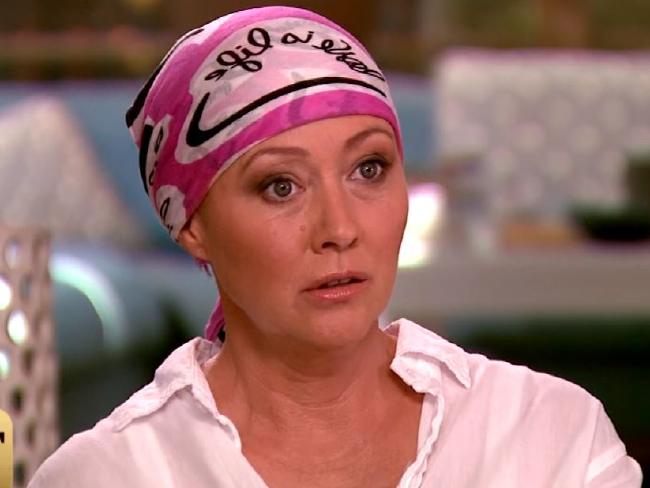 Shannen Doherty has experienced first hand the kindness of strangers after having the bill paid for her following a meal out with her mother.
The 45 year old  was diagnosed with breast cancer last year and has since gone public with her illness and often shares images of her battle online.
The former Beverly Hills 90210 star has documented her journey right from the start- her diagnosis, to shaving her head to receiving chemotherapy. She has been praised for her openness and honesty about her cancer struggle.
While she was dining with her mother recently, a complete stranger paid her bill leaving her with a kind note thanking her for her bravery.
The note read: "Thank you for your bravery and your openess. God bless you and your family." 
Shannen shared the note on Instagram and captioned it with: "Today I was able to get out and attempt to eat and hang with my mom. We decided on The Cheesecake Factory because of their vast menu. I figured I could find something to eat that wouldn't make me sick. Success.
I asked for my bill and the above note was placed in front of me instead. No names attached, just the note. They didn't care about a thank you for picking up my bill. They simply wanted to do something nice."
"I convinced the waitress to nod to who did it. Rian and Lloyd … I wish there were more people like you. Your kindness blew me away today. From the bottom of my heart, thank you. You both deserve a very blessed life."
Shannen says sh has decided to be completely open with her cancer experience in the hopes it may help someone else through their battle.
"I wanted to put it out there the way it felt the best for me to put it out there," she said. "And also, if I could help one person then it makes me go, 'Oh OK.' It's easier to live with having cancer if I know I'm helping at least one person."
Photos: Instagram