Sonia Kruger Says Scholarship Program for LGBTI Students Is Reverse Discrimination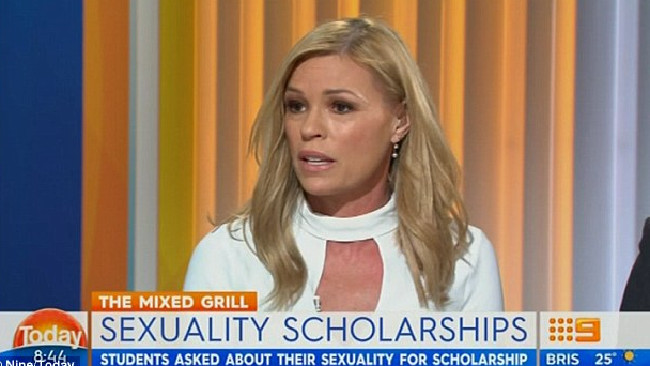 Sonia Kruger found herself embroiled in more drama this week after slamming a scholarship program for LGBTI high school students.
The television host called the scholarship "reverse discrimination" on the Today Extra show just two weeks after her call to ban Muslim immigration.
The program was revealed in The Australian newspaper which said the Australian Business and Community Network Scholarship Foundation had reserved a place in it's Year 10 scholarship program for a LGBTI student.
Sonia said the program was 'odd' ann couldn't understand why a $7000 scholarship was being put aside for a lesbian, gay, bisexual, transgender or intersex student.
"I don't think it should have anything to do with the awarding of a scholarship," Sonia said. "I think scholarships should be given on merit."
Family Voice Australia has called for an end to the scholarship saying it's just "another example of ideological activism making its way into schools".
The lobby group's national policy officer Damian Wyld argued it was inappropriate for children to "be asked to declare their sexuality or gender identity".
"Why should children, especially in a school setting, be asked to declare their sexuality or gender identity? Many 15-year-olds are still working through issues around sexuality," Mr Wyld told The Australian.
"Offering a financial ­incentive to identify as 'lesbian, gay, bisexual, trans and/or intersex' is completely inappropriate."
The scholarship application form (see below) includes a question about sexual orientation. Applicants have the option of choosing "prefer not to say".
Co-host David Campbell disagreed with Sonia and said: "There are tonnes of other scholarships that are set aside for kids who are supremely talented."
Chris Pycroft from the NSW Gay and Lesbian Rights Lobby said LGBTI students were generally more disadvantaged and that their struggles and problems often went unrecognised.
"The research shows that the significant majority of these high school students do experience abuse because of their sexual orientation or gender identity," Mr Pycroft said."The impacts of homophobia, discrimination, harassment is often not considered and the implications are not often realised."
ABCN offers mentoring and financial assistance to students across Australia, with financial backing from companies including Optus, Microsoft and PricewaterhouseCoopers. The Scholarship Foundation has awarded 41 scholarships since it started in 2013.