Stephanie Gongora Explains Why She Shared a video Of Her Period Leaking Through Her Yoga Pants!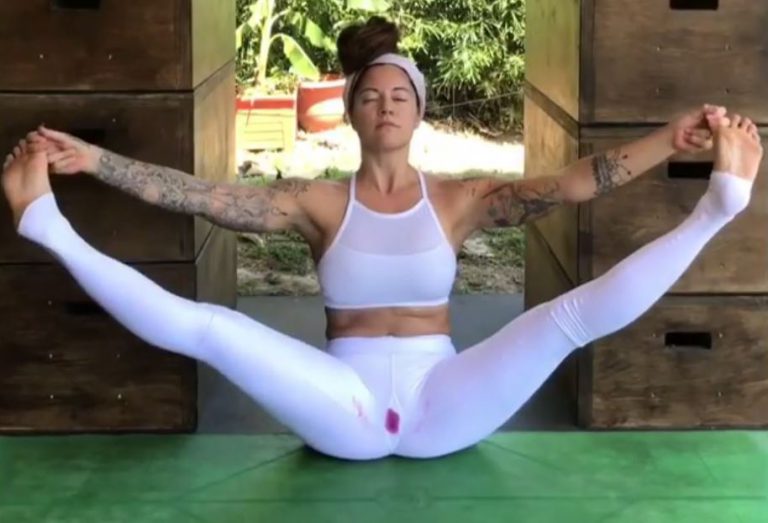 Stephanie Gongora Explains Why She Shared a video Of Her Period Leaking Through Her Yoga Pants!
Menstruation is a natural bodily function that is still shrouded in mystery and shame. But the fact is women have vaginas and women bleed through their vaginas. It's nothing new and it's nothing that we should feel embarrassed about. Some cultures treat menstruating women like lepers and isolate them to a separate hut where they must remain until the bleeding stops. Other religions do not allow women to enter the church when they are bleeding as they are deemed too dirty to be in the presence of God.
As women we whisper the word period- or use alternatives like 'my rags' or 'aunty flo' or 'my monthly.' We pass tampons around secretly and look embarrassed when we have to buy pads at the supermarket. For those few days each month we're told to keep ourselves clean, keep quiet, don't complain, get on with life. It's almost like we're censored- not allowed to discuss what is happening to our bodies- because it's too gross to talk about.
Bloody ridiculous isn't it?!! One brave female warrior is fighting back. Yoga instructor, Stephanie Góngora (known as casa_colibri on Instagram, where she has more than 250,000 followers) chose to share a video of herself doing yoga as she bled through a pair of white yoga pants.
While first watching the video you instantly notice her flash of red blood but then it becomes part of her. The video is so mesmerising that the fact she is bleeding through pales in significance. 'I am a woman, therefore, I bleed,' Stephanie wrote in the video's caption. 'It's messy, it's painful, it's terrible, & it's beautiful. And yet, you wouldn't know. Because I hide it. I bury things at the bottom of the trash. I breathe, ragged and awkward through the cramps, all the while holding onto this tight lipped, painted on smile.
'Tampons? What are those. We don't say those words out loud. Hide them. In the back pocket of your purse, in the corner of the bathroom drawer, at the very bottom of your shopping cart (please let me get a female cashier). 'Events or engagements get missed. I'll tell myself it's the PMS, sure, but it has more to with the risk of being "caught," at what…I'm not quite sure.'
Gongora recognises how lucky she is as millions of young women around the world have to miss school or work because of a lack of decent sanitary products, and a fear of judgement for showing evidence of their periods. She wants us all to stop being so ashamed of something entirely natural and normal.
'Hundreds of years of culture have made us embarrassed to bleed,' she writes. 'Have left us feeling dirty and ashamed. 'STOP PRETENDING. Stop using silly pet names like Aunt Flo because you're too afraid to say "I'm bleeding" or "vagina." 'Stop wasting so much effort hiding the very thing that gives this species continuity. 'START talking about it. Educate your daughters. Make them understand that it can be both an inconvenience and a gift, but NEVER something to be ashamed about.
'Educate your sons so they don't recoil from the word tampon. So when a girl bleeds through her khaki shorts in third period (pun intended), they don't perpetuate the cycle of shame and intolerance.'
There was no way this video wasn't going to attract negative comments. Women wrote on her page calling her "gross" and "dirty, " which is just evidence of  how much work still needs to be done.
'I knew a bright red blood spot on pristine white pants would make a statement in a society that rarely takes the time to actually read,' Gongora says. 'I've been successful in getting people to talk about period shame, something that was shrouded in such silence for far too long. 'It's not like I'm going to start free bleeding. It would mean a lot of stained clothes, car seats, and sheets, so I don't think it's in the cards for me. 'But I do hope that this cycle of shame and intolerance around the very thing that gives our species continuity can, one day soon, stop.'
How fantastic is this? How are we are supposed to teach our daughters they have nothing to be embarrassed of when it comes to their bodies if we are still ashamed of our own?
Photos: Instagram