STOP, COLLABORATE AND LISTEN: Vanilla Ice Loses His Cool After Missing His Flight!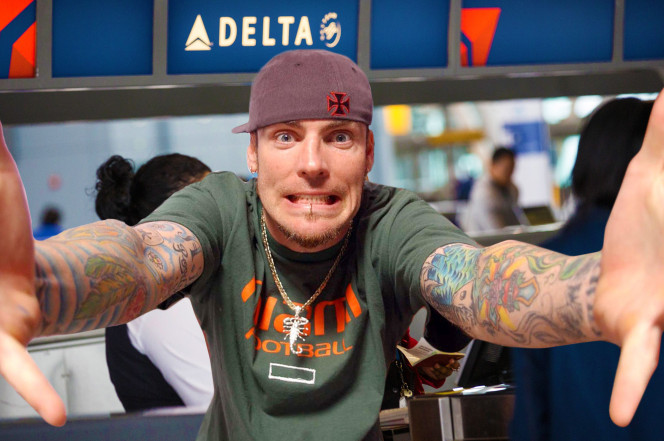 Vanilla Ice had a mega 'meltdown' after missing his flight at an airport in the US on Monday.
The 48 year old 90's rapper who is best known for his mega hit ICE ICE BABY was record by a fellow passenger shouting at an airline employee because he missed his flight from Atlanta to Nebraska where he was performing in concert.
The woman who taped the rapper said it was his own fault as he arrived 10 minutes after the cut off time for boarding.
Ice, whose real name is Robert Van Winkle, was then seen throwing his ticket at the agent and started swearing.
"No one has called me. No one said final call. Nothing," he's overheard yelling to the agent in the leaked video. "You didn't board me! I'm sitting in the freaking line … You didn't even say anything."
One onlooker told him he should've been watching the monitor instead of playing Pokemon Go (last bit not confirmed, I'm just assuming). "You gotta watch the monitor, dude," he said.
"I don't need any information from you man," Ice yells back. "Shut your f — king mouth … You don't work here. Shut up!"
Hopefully Delta managed to get him onto another flight to avoid any further public tantrums. Ice, this behaviour really needs to stop otherwise we'll have to have a 'word to your mutha!'
Photos: Google images