Teacher's Outfits Deemed Too Sexy For School!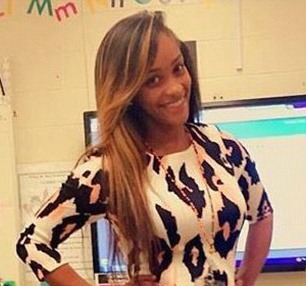 A teacher has been dubbed #TeacherBae on Twitter because of her tight-fitting work clothes.
The Atlanta fourth grade teacher has been called the 'sexiest teacher alive' on social media and has sparked a debate on whether or not her clothes are appropriate to wear to school.
Patrice Tricey Brown has posted several photos of herself on Instagram where she is dressed for a day of teaching with her 10 year olds at school.
In one photo she is seen wearing a tight pink dress with strappy high heel sandals. The dress is up to her neck and down to her knees and while it isn't revealing, it is skin tight.
In another she shared pictures of herself with an award declaring her 'Teacher of the Month'.

Her Instagram account which goes by the name of 'Paris Monroe', gained more than 122,000 followers because of all the attention.
Many twitter and Instagram users have been quick to criticise the teacher on her outfit choices:
'My sister is a principal in Atlanta and I know she would have sent ole girl home on sight. Like, naa. Try again.'
'DEFINITELY inappropriate if you're a teacher!!'
"How is that appropriate? You can see her bra and thong line in the pink dress? Punishing her for being beautiful?
'You don't have to wear a size smaller than you actually wear to make your clothes skin tight she needs to wear something that fits her correctly not skin tight if the students have a dress code so should the teachers no ones you sound so stupid."
While others rushed to her defence saying she only looks sexy because she has large breasts and hips. They were quick to point out that a thin girl wearing a tight dress would not have been under fire like this.
'I support #teacherbae not cause she fine but what she was wearing was appropriate, she just has curves, you need relax if you're mad.'
'Black women w/ curvy bodies are immediately judged and sexualized for something they have no control over.'
Brown spoke out saying she just wants people to pay attention to education and stop focusing on her clothes.
'I just wish they would respect me and focus on the positive and what truly matters, which is educating the children of the future generations and providing and caring for them. I don't understand why people hate and bash others for doing what they love and work hard for. Why is there so much hate & jealousy in this world? When people just wanna achieve their dreams. Nasty people all on social media.
People will pick apart any situation and find a way to hate on it. It's so sad that's why nobody can be happy for more than 5 minutes.'
What do you think? Are her clothes inappropriate for an educator or is all this a fuss over nothing? And should teachers have a clothing code to follow just like students do?
Photos: Twitter