Tess Holliday Shares A Breastfeeding Pic And Asks The Question All Nursing Mums Are Thinking!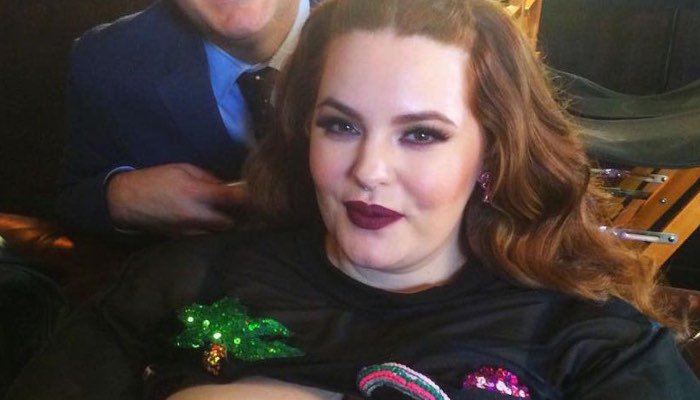 Model Tess Holliday is a huge supporter of normalising breastfeeding and has done her bit again by posting a photo of herself nursing her 3 month old son Bowie.
The stunning brunette shared the photo on Instagram after a taping of Hollywood Today Live with the caption: "When a babies gotta eat, a babies gotta eat! Also my bra isn't a nursing bra, it's a Torrid push up bra that I've made work for me, because let's face it- supportive & cute options for plus size moms don't exist. Sadly!"
Yes!! Why indeed? I remember when I was breastfeeding every nursing bra I saw was either beige, black or white. Usually sold in a three pack- of you guessed it beige, black and white! The only cute lacy bras were for the women with little boobies!
I remember wishing I should just wear a normal bra that looked pretty while still giving support. I wanted to look like I had two breasts and not just one big mass of fat across my chest. So yes, Holliday makes a very good point. Where are the attractive nursing bras for women with larger breasts? Why must we look like our grandmothers if we want to have a convenient bra to breastfeed our babies in?
I did my own little research online and typed 'nursing bras' into Google to see what would come up. Guess what I saw? A sea of beige!! Try it- you won't believe how many shades of beige there are in the world! Here are some I prepared earlier…so sexy!
Retailers are missing out on a HUGE market here- attractive bras for big breasted women. We all want the option to look beautiful and feel confident while being an on tap milk machine. Whether we're a size A or F cup wearing a pretty bra should be our maternal god-given right!
Images: Instagram and Google images