The Rock Responds To DJ Khaled Not Going Down On His Wife And The World Is Rejoicing!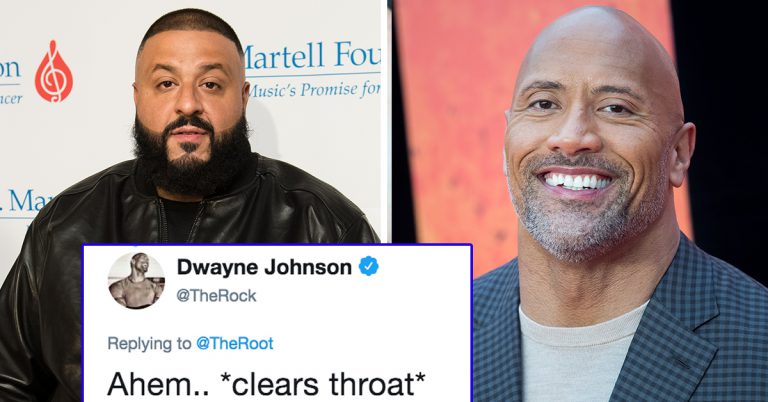 The Rock Responds To DJ Khaled Not Going Down On His Wife And The World Is Rejoicing!
DJ Khaled, who is best known for screaming his name loudly in nearly every track he produces, has let the world know he's not a fan of going down on his wife. A fact that hasn't gone unnoticed and has even seen a response from The Rock Dwayne Johnson himself!
Before we share the tweet that shut down the 42 year old music producer lets check out the 2015 radio interview he did on The Breakfast Club.
ok so I'm convinced he has the mind of a teenage boy pic.twitter.com/epzhPjceny

— Got Student Loans Homie Quan (@howcomeyousmell) May 4, 2018
 "A woman should praise the man — the king," Khaled insists. "If you holding it down for your woman I feel like the woman should praise. And a man should praise the queen. But you know, my way of praising is called, ha-ha, 'How was dinner?', 'You like the house you living in? You like all them clothes you getting? I'm taking care of your family, I'm taking care of my family…' You know, I'm putting in the work."
When questioned with, "So, you're saying you don't go down?," he then replied, "Nahhh. Never! I don't do that. It's different rules for men. You gotta understand, we the king. There's some things that y'all might not wanna do, but it got to get done. I just can't do what you want me to do. I just can't."
So basically what Khaled is saying is his wife OWES HIM HEAD JOBS BECAUSE HE WORKS AND BUYS HER STUFF?? Don't get me started on this bullshit. Have you seen Khaled? I think the one working hardest is your wife there mate…have you seen the size of your stomach? It seriously looks like you'll eat everything else except your wife! Sheesh!!
With comments like that we all know who the real man is – am I right ladies??!
Images: Twitter and google images