"I Was A Tool!" Karl Stefanovic Apologises On Air For Transgender Jokes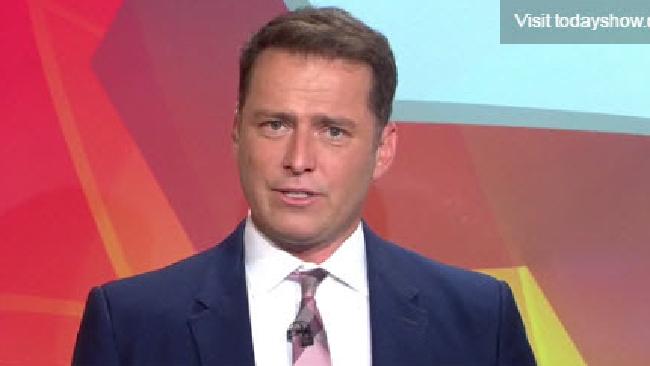 "I Was A Tool!" – Karl Stefanovic Apologises On Air For Transgender Jokes
Today Show host Karl Stefanovic has apologised on air after making a series of offending jokes about transgender people yesterday.
The segment in question involved Christine Ahern's report from Rio where she reported to being mugged by a group of, in her words, 'transvestites.'
Karl then made a reference to the transvestites calling them 'trannies.' All while Hugo Weaving's character from Priscilla Queen of the Desert flashed on the screen.  "I know that you have gone to see the police about this tranny. We have a confit made up and we know they don't all look the same. Is that the tranny they are talking about it?" Karl asked.
The Today Show was bombarded with disgruntled viewers calling Karl's actions as offensive and archaic. The presenter gave a heart felt apology this morning pleading ignorance but saying he was educating himself,
"As we all know, I can be a complete tool, right? Well, yesterday I was worse — I was an ignorant tool," Karl said.
"I pride myself, in my own weird way, of being across things. Yesterday I wasn't. Yesterday, I got it very wrong. I used a word which I will now say for the last time ever. By using the word 'tranny', I offended an awful lot of beautiful and sensitive people. I honestly didn't know the negative and deeply hurtful impact that word has, not only on members of the LGBTQI community, but on their family and their friends," he said.
"Therein lies part of the problem, I think: I've never bothered to ask. Like so many other words we've used in the past, it's time to throw that one in the bin."
Karl even went as far as to say he never really knew what the term LGBTQ (Lesbian Gay Bisexual Transgender Queer) stood for. He says after speaking to a friend who's a member of the LGBTQ community they too said Karl had "crossed a line." "I didn't know that line even existed. Well, I do now. I take this very seriously, because I actually don't know what it's like to feel apart from the rest of mainstream society. I don't know what it's like to feel you are born in the wrong body, or the extreme courage it takes to accept yourself and live the life you have always wanted to live," he said.
Karl also spoke to the viewers who wrote in to support of the host saying there was nothing offensive with his comments at all. "To anyone who found the segment funny, please understand why it was the exact opposite: an ignorant jibe at the expense of a beautiful community already battling against the odds for mainstream acceptance. I get it wrong — I probably always will. But as a result of yesterday, I truly have learned a lesson. People, my brothers and sisters in the community who love and respect me, have told me to educate myself. I have started to."
It's the second time this week that a Today Show host has had to apologise on air for their comments. Earlier this month Sonia Kruger gave an emotional explanation regarding her comments about Muslim immigration.
Photos: Google images.