Tyga Says He Wants To Keep His Son Cairo Out Of Kardashian Drama!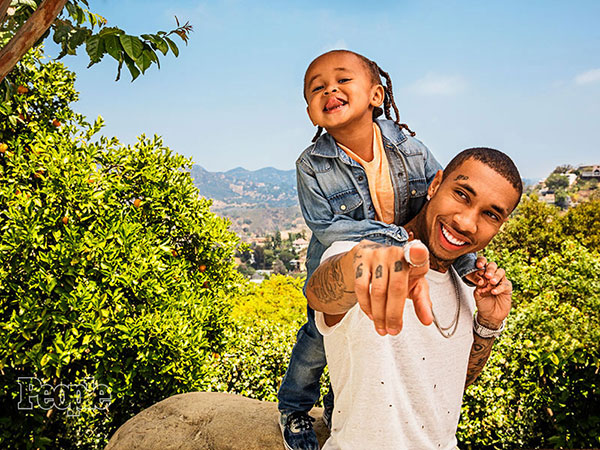 Despite joining one of the most drama-fuelled families in LA, Tyga says he wants to keep his son out of the spotlight and away from any controversy surrounding the Kardashian and Jenner families.
The 26-year-old rapper revealed that he doesn't want his 3 year old son King Cairo, with Blac Chyna to become involved in any drama.
"I try not to judge people," Tyga said "Once you're an adult, people make their own decisions. My main focus and goal is just to make sure that my son has the best upbringing."
Tyga had son Cairo with Blac who is now engaged to Rob Kardashian and they are expecting a child together this year. Rob Kardashian's half sister Kylie Jenner is currently still dating Tyga. Keeping up?
Tyga said that the family tree may be complicated but he aims to never let his son see any of the conflict or struggle the adults may be going through.
"When I was growing up, I didn't know about the problems my mum had," Tyga said. "She always made sure that I was good, I was happy."
Although his girlfriend Kylie and her whole family are always in the press with some new drama, Tyga has managed to keep himself relatively far from the spotlight.
"I'm just not a messy person … I don't look for pleasure in social media," Tyga said. "That's just not my character,I have a good life, and I'm blessed."
The rapper was tight lipped though about what gift Kylie may be receiving for her upcoming 19th birthday. Last year Tyga gifted her a brand new Ferrari so the benchmark has been set pretty high.
Sources say a ring may be on the cards, but Tyga is staying very coy on the subject matter. "We gotta see," he said, regarding the possible ring. "I don't wanna give it away."
Although Kylie has been spotted out wearing a massive ring on that finger nothing has been confirmed yet!
Photos: Google images