Tziporah Malkah Talks Of Her Weight Loss On I'm a Celebrity Get Me Out Of Here!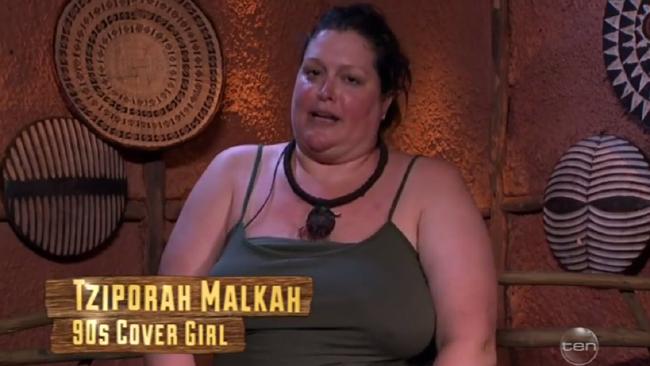 Tziporah Malkah Talks Of Her Weight Loss On I'm a Celebrity Get Me Out Of Here!
Tziporah Malkah says one of the main reasons for going on reality show I'm a Celebrity Get Me Out Of Here was to lose some weight.
The former model, who weighed 118.5kg before joining, admits the enforced weight loss of a jungle diet was very attractive to her and part of the reason she signed up for the show. Speaking to Kyle and Jacki O on KIIS FM, Malkah says, "In the jungle you can't go find a chocolate bar, you can't buy a bottle of champagne. The hardest part will be maintaining it."
Malkah can't reveal the exact amount of weight she's lost as she's signed an exclusive deal with New Idea magazine to reveal her weight loss after the reality show ends. However, a source has shared that she would need to lose at least 20kg in order to be paid the agreed amount by New Idea.
The 43-year-old revealed details about her weight loss in a recent interview saying, "I have a deal going with New Idea, so I don't want to talk too deeply about my weight. People have always been interested in my weight, because I've always been a bit of a yoyo dieter.
I was never this heavy, but I was heavy for a model. There was always interest in my weight, but now it's different," she continued.
The former model went on to explain that the weight loss is needed so she can continue working at the nursing home she's currently employed at. "I am so heavy and doing quite a physical job, and my doctor said I'm pre-diabetic and I'm going to break my back if I continue to be this heavy. I have to, I have to do it. New Idea have set me up with a nutritionist and a trainer."
While on the show, Malkah opened up about a lifetime of eating disorders that started when she was just a child. "I have had an eating disorder since I was eight years old," she said. "I don't have a healthy relationship with food. Since I was eight and I am 43. I have never eaten healthy within the 35 years. It has been a lifelong condition," she said.
The over eating and bulimia started when her parents separated, and it soon turned into a habit that was "difficult to kick".
"Then I started to not eat and then I got bulimia and all that kind of stuff. By the time I started modelling at 13 I had already had a chronic eating disorder for five years. I won't eat for two or three days and then I will eat a whole pizza," she said.
Malkah also admitted she secretly underwent lapband surgery ten years ago."But it didn't work. It works for a lot of people, but not for me. So a couple of years later I had the band removed," she said. "It actually left me with a scarred stomach. Sometimes if I eat too quickly, I'm sick."
Photos: Channel 10 and Google images